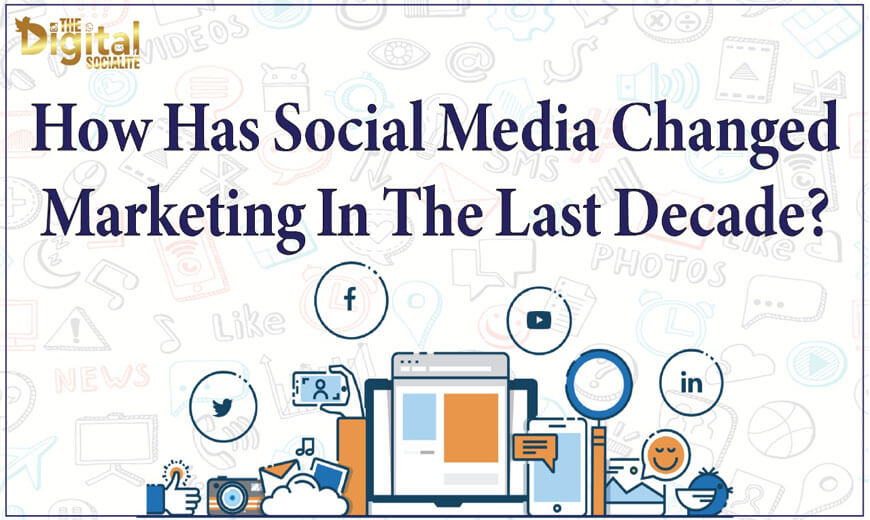 In the last ten years, the nature of digital marketing has altered tremendously. Businesses have had to deal with rapid technological advancements, adapt to great marketing tools, and stay up with internet users.
The few digital trends which changed the social media game are:
Growth of social advertising
Immense rise of mobile phone users
Video craze among people
Millennials
Online shopping
Big data
Growth of Social Advertising
Over the last decade, the number of social media users has drastically evolved. Social media platforms like Myspace have disappeared, but social advertising has established itself in people's regular lifestyles.
After a decade, social media advertising is still expanding at incredible speeds. Every social media network has its own set of specialized commercial advertisements and targeting options, giving organizations various methods to interact with consumers in significant ways.
Only with ordinary social media users having three and sometimes more accounts and spending two hours per day on the platform businesses have quickly discovered that social media is a vital channel for increasing income.
Immense Rise of Mobile Phone Users
Through the use of smartphones and tablets has grown in the past decade. International mobile technology has risen to 2.53 billion, with smartphones accounting for 51.89 percent of global web traffic.
Smartphones have surpassed the desktop as the primary device for accessing the internet, and mobile has quickly surpassed the computer as our chosen screen for communicating. WhatsApp and other similar apps have now become a part of our daily lives. The social media apps like Instagram and Snapchat rely on the artificial intelligence and picture features that smartphones provide.
Also, Read – Impact of Artificial Intelligence on Digital Marketing
When it used to be in our workplaces now fits nicely in the hands of users, permitting us to take functioning with us anywhere we go. Businesses that update their marketing to reflect the behaviour of consumers will succeed.
Video Craze Among People
A decade ago, shortly video was only available to huge firms with the financial means to reach viewers through television or movie advertising. Today, anyone with a smartphone can make videos.
The increasing demand for video content is high because of the intertwining of paid social, mobile, and video. As per a Cisco report, online streaming content will account for 80% of all internet data by 2019, and this trend isn't reduced shortly.
Businesses have discovered the enormous potential that video holds for them. From promotional activities to customer feedback to webpage brand's story, product lessons, and live streaming, it has something for everyone.
Video is an important element in the marketing mix, and businesses that use it to boost brand awareness at every point of the purchase journey will be successful.
Social Media Millennials
As a technology era, which accounts for a significant number of young consumers, it's become extremely important for companies to develop new ways to attract them.
Advertisement has a larger impact on millennials than it has on past times. Interaction, immediate pleasure, exceptional customer service, and promotion that sticks out from the crowd to get their awareness are all things they anticipate.
Decades ago, placing an advertisement in a print medium was sufficient to generate a sale, but Millennials are less concerned with buzz words and more concerned with sincerity.
Consumer media, advertising networks, online reviews, and celebrities all significantly impact consumers' judgment process, and marketers must ensure that their advertisements focus on their buyers.
Also, Read – How Can Google Algorithm Updates Affect Your Business
Online Shopping
When individuals were looking for a product a decade ago, they visited one or two pages and decided based on the data. Buyers can now study various goods quickly, analyzing competitors and ratings with ease, giving them the ability to make choices.
Buyers today demand a seamless internet presence and demand a personalized experience regardless of where they shop – smartphones, social media, apps, or computers.
Big data
Businesses had very little visibility a decade ago on which of their marketing strategies were functioning well. Big data has improved the way brands connect with their consumers in the last ten years.
CRM technologies like Salesforce and Hubspot provide marketing with useful statistics to boost client awareness and engagement. Social media platforms give advertisements access to vital statistical analytics tools to conduct sharper and more tailored marketing strategies.
As an outcome, businesses get the information they need to assess their initiatives' most important KPIs and modify them for achievement.
Conclusion
A lot of things have changed in the last two decades. We're amid digitalization that's changed the way companies do business. Since these developments may bring some difficulties, these also bring tremendous potential for organizations that appreciate them.