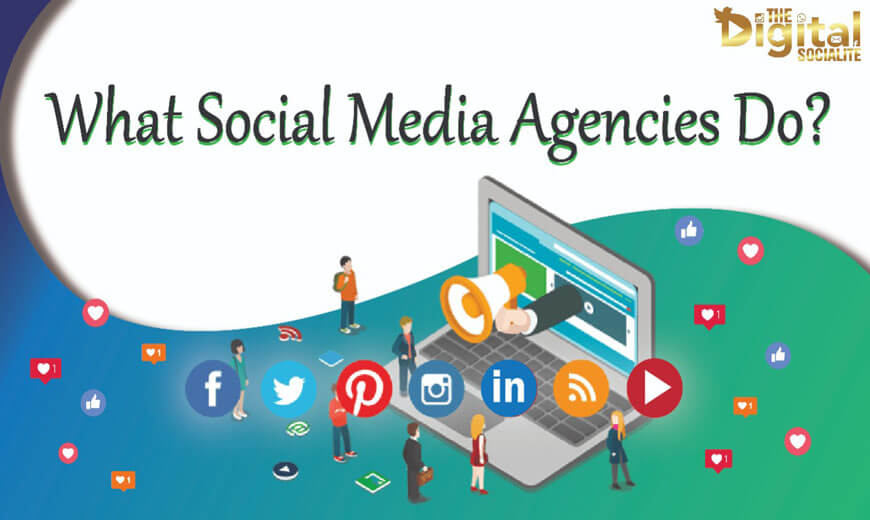 Businesses are trying to advertise themselves using various social media pages as social networking has taken over the web. Everyone has to start to recognize the value of having a social account. Organizations are going to put time, effort, and money into social media advertising.
What do Social Media Agencies do?
Media platform agencies take over the majority of a business's Social Media marketing tasks. Unfortunately, you don't typically come with social media businesses that provide all of the offerings your company demands. They offer a wide range of services or classifications, including the following:
Creating, Validating, and Optimizing social media strategy
Web design, mesh content, and social media platforms to generate or establish a hub for stakeholders.
Analyze growth in context to the organization's goal.
Other key activities define the role of these kinds of agencies, mentioned below:
Social Media Publishing
All of your company's social media publishing efforts will be handled by the digital marketing agency. Typically, the firm and the client will agree on a specific number of articles for each social media platform. Professionals will next do a review and study on major social media material in your sector.
Also, Read – How to Generate Leads for your Business?
Social Media Audit
The agency will assess your company's social media following and determine which areas require attention. They'll next propose ways to improve the current approach or create a unique social media marketing plan customized to your company and market.
It focuses on:
Reach and impressions
Engagement
Low and High performing content
Followers
Comments
Following Leads
Competitors Evaluations
This data is quite beneficial for brands who want to see how their competitors are doing. They also reveal how a company performs in comparison to its competitors. Besides that, firms can learn from their competitors' marketing failures and successes. With some of these details provided by agencies, businesses may design fail-safe initiatives for their businesses.
Social Media Marketing Strategy
Social media businesses assist businesses in developing and implementing new marketing campaigns. They begin by examining the company's current social media presence and techniques, studying the competitors, and then developing a clear direction.
Making Social Media Policy
A social media policy establishes guidelines for how an organization or its workers should use social networking sites. This protects a company's professional image while also ensures that staff distributes content appropriately web.
Creating Social Profile
A social media agency researches a company's industry and determines which new media platforms are suitable for it. Users can connect and communicate with organizations that have full and updated profiles.
Social Engagement
A social media firm can assist businesses in managing the reactions they receive on various websites. Constantly, social media firms will be responsible for more than one firm and many more identities. Typically, social media agencies utilize customer engagement tools to manage all of their business activities.
Generating Social Media Campaigns
While updating social profiles with new information is done to maintain an engaging and interactive presentation, media platforms campaigns are undertaken with a specific goal in mind. This could go from growing brand awareness to boosting following to growing customer leads.
Conclusion
The list mentioned above of the role performed by Social Media Agencies provides an insight into the importance of Social Media presence in the world. As the digital network is always changing, social media businesses provide a variety of walk services.
A social media marketing business would deeply investigate a possible client's company, branding, product, and service to reach a better growth prospect.