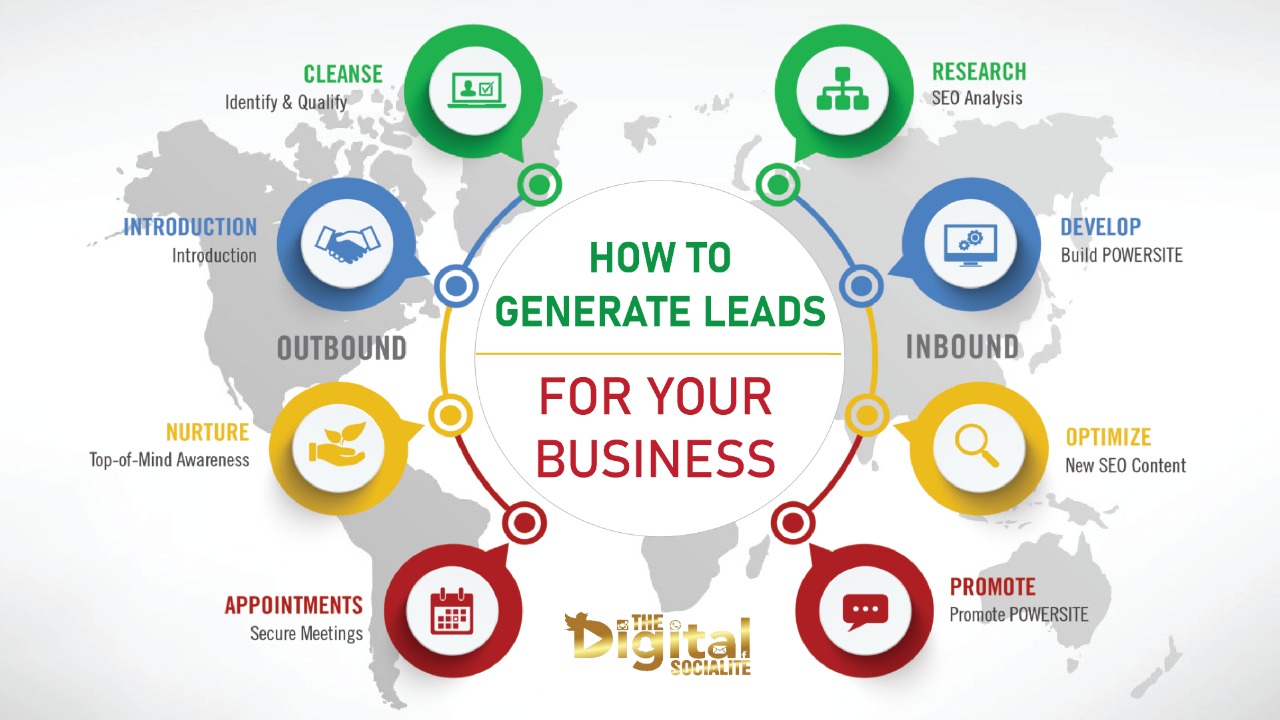 One of the primary goals of any company is to generate leads. Businesses spend significant sums of money on lead generation. Making sales will indeed be challenging if the customers aren't willing to buy what you're offering.
Prospects that are interested in your product or service and are ready to buy are considered good leads. These high-quality leads will help businesses increase revenue and ROI. When it comes to leads, however, many companies still choose quantity over consistency.
What is Lead?
Someone who has shown interest in your product or service is referred to as a lead. This lead may come from a variety of places. Your website, word of mouth, social media campaigns, and even a phone call are examples of these.
What is Lead Generation?
The process of attracting and turning strangers and prospects into someone who has expressed interest in your company's product or service is known as lead generation.
Job applications, blog posts, coupons, live events, and web content are all examples of lead generators.
The company should then nurture the produce leads. The sales team should guide them through the company's sales funnel to convert them into a deal at the end.
Sales teams should also cultivate each lead to ensure that you are not spending money on information that will not convert into sales.
Also, Read. What Does a Digital Marketer Do? (Role of a Digital Marketer)
Why is Lead Generation Important?
A company's lead generation is crucial. Without it, a company would fail to grow and make profits. A successful lead generation strategy is essential for any business. As a company, you'll have a hard time generating leads because you're unsure who you're trying to sell.
Most companies today depend primarily on lead generation to drive traffic to their websites, where leads can be converted into customers.
Google has simplified the process of linking customers with companies, allowing businesses to showcase how their goods and services vary from those of their rivals to the rest of the world.
It helps you to reach out to a consumer base that is actively looking for your product or service on the internet.
There are mainly two types of lead-
Marketing Qualified Lead
Sales Qualified Lead
MQLs are candidates that the marketing team thinks are promising but aren't quite ready to buy – they've shown interest or made contact, but there's not enough information to know how serious they are.
The marketing team engages and nurtures these leads, presenting relevant information and ranking them based on their responses and behaviors.
When these leads are determined to be ready to buy, they are passed on to the sales team and designated as SQLs.
SQLs are leads that have had their level of interest decided and are no longer in the engagement process. They've Both the marketing and sales departments have scrutinized them, and they're now ready for the next step: the direct sales drive.
Both the sales and marketing teams should evaluate each lead to assess where it is in the buyer's path and how it should be tackled.
What Does Lead Generation Do?
Build Connections-
Lead generation helps you to build relationships with your ideal audience to entice them to learn more or buy from you.
Since not everyone would be interested in learning more about your business, the trick is to concentrate on your ideal audience.
Help You to Grow Your Email-List-
Your email list will burst with appropriate, wet, and engaged prospects once you introduce a successful lead generation method.
To accomplish this, concentrate on developing compelling lead magnets that speak directly to your leads' feelings, alleviate their concerns, and provide solutions to their problems. You can hire digital marketing that will do an email marketing job for you.
What is Lead Generation in Digital Marketing?
The digital age has changed how we used to do business. The days of placing a newspaper ad or launching a flyer campaign, and knocking on doors to promote your company are over.
You can now use different analytics tools to concentrate on your target audience and investigate their behavior.
You have complete control of who you target when you approach them and how you approach them, as well as the accuracy with which you conduct campaigns.
Generate a Lead with
Outbound – prospecting, and contact via email and phone
Online – driving traffic to your website and generating inquiries and leads.
Paid 3rd Party – content distribution networks, lead brokers, lead generation agencies, list vendors.
Events – tradeshows, invitational meetings, business breakfasts, etc.
Branding & Advertising – sponsorship and advertising in mainstream media, analysts, etc.
Direct mail – hard copy mailers sent to prospects
Referrals – generating leads through customers and partners
PR – press releases, editorials, speaking opportunities, etc.
In digital marketing, lead generation introduces customer curiosity or inquiry into a company's goods or services.
Lead generation should be the most crucial aspect of your digital marketing strategy.
How Can You Grow Business With the Help of Lead Generation?
To be clear, generating leads for your company is only the first step toward long-term business growth.
You have more chances to cultivate leads into sales and conversions when the sales pipeline is continually replenished with new information. However, merely producing leads will not get you to your desired destination.
But here is what you'll need to do:
Get to the heart of what motivates your ideal customer so you can tailor your lead generation strategies to reach them where they are.
Create value propositions that appeal to YOUR target market.
Make genuine interactions with your audience to persuade them to sign up.
Assist the audience in completing the process of becoming a customer.
Storytelling is one of the most effective ways to strengthen those bonds. When you use stories in your company, you establish a genuine connection with your customers.
Then, if someone signs up as a result of your lead generation strategy, you can use email marketing to convert them.
Of course, you should modify and optimize your marketing automation plan along the way to ensure that your conversion rate continues to improve.
How to Generate Leads for Your Business?
You are generating actual leads that you can convert into new customers for your business. Note that 86 percent of marketers believe that personalization improves lead generation significantly or moderately.
Let's bring theory into effect by taking a look at the process of lead generation.
The Marketing Funnel-
The marketing funnel is a term used to explain how leads become customers. The marketing funnel is divided into three sections:
Top of the Funnel (TOFU) – full of new leads searching for answers but not yet ready to buy.
MOFU (Middle of the Funnel) – filled by potential buyers who have shown a keen interest in your company's brand products.
BOFU (Bottom of the Funnel) – has the fewest leads, but these are the ones that are willing to buy.
Let's understand some most important things to generate a lead for your business-
Build a Website-
It would be nearly impossible to build a solid online presence and draw targeted leads using organic traffic sources if you don't have a website.
With a website, on the other hand, you can offer helpful information to your target audience by engaging content, giving them a reason to return.
Use a Contact Form to Generate Lead-
Attracting qualified leads to your website is a costly and time-consuming operation, so you can't afford to lose them over anything as trivial as a poorly placed contact form.
If you want to go even further, you might integrate a chatbot or live chat feature into your site so that your leads can contact you using the method that is most convenient for them.
Create Landing Page And CTA-
A landing page is an essential component of any effective lead generation strategy because you obtain the leads' contact information.
When creating CTAs (calls to action), you must make sure they are:
Simple and understandable
Persuasive
Well positioned on your website to enable visitors to contact you quickly
Use Email Marketing-
It's just as essential to building an email marketing strategy that encourages people to open and read your emails.
The email sequences must provide helpful information and foster leads, leading them toward a purchase decision.
Create Blog-
Create a blog with a lot of helpful material. You can not only get direct leads from SEO and other organic search sources, but then you can also establish your business as an expert in your sector, which will help you achieve confidence in your audience and turn leads into customers.
Retarget Your Lead-
You shouldn't abandon a lead just because he left your website after his first visit.
After all, he had shown sufficient initial interest to click through, so if you could re-engage him with a bit of a different message or a special deal, you could get even good outcomes.
PPC Lead Generation-
When we talk about pay-per-click (PPC), we're talking about advertisements that appear on search engine result pages (SERPs). Google receives 3.5 billion daily searches, making it ideal real estate for any ad campaign, especially lead generation.
A smooth user experience and your budget, target keywords, and a few other variables all play a role in the success of your PPC campaign.
B2B Lead Generation-
B2B is a unique business model that necessitates a unique lead generation strategy. SEO is the most effective method of generating business leads, followed by email marketing and social media. Not to mention that channel effectiveness varies.
Conclusion
Now though, you would have had a much deeper understanding of what lead generation is, how it functions, and some of the most effective lead generation strategies for businesses.
Last but not least, research can never be stopped. The further you modify and test each stage of your lead generation system, the better the standard of leads you'll generate and the more profit you'll make in business.