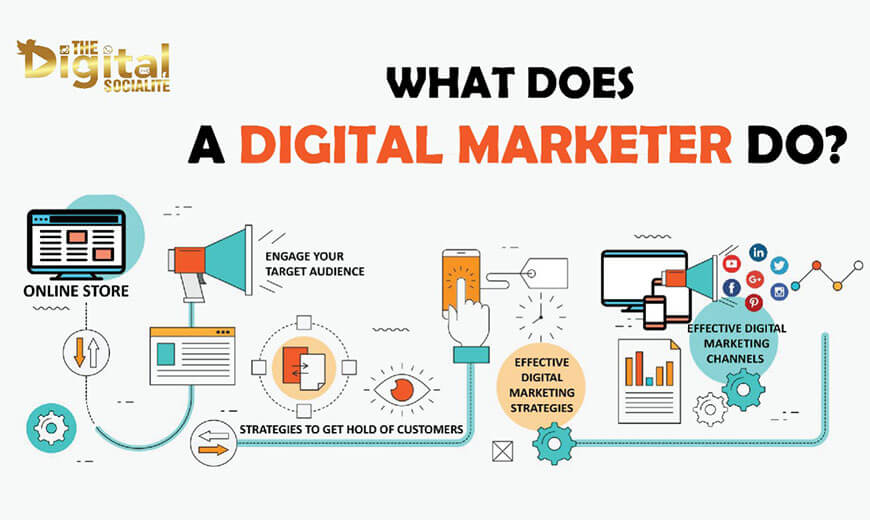 Digital marketing is a distinct industry with its own set of requirements beyond basic marketing techniques and innovative abilities.
Understanding the skills needed and what digital marketers do is an excellent place to start if you're considering a career in digital marketing.
What do you mean by a Digital Marketer?
In general, a digital marketer is someone who generates leads and brand recognition across digital channels. The following are examples of digital channels:
Company websites
Social media
Search engine rankings
Email marketing
Online display ads
Corporate blogs
Aside from that, the digital marketer must use visual analytics to recognize flaws and increase efficiency across these platforms.
You can be in charge of all facets of a company's digital strategy, or you can concentrate on only one.
Smaller businesses typically have a single general specialist or manager, while larger businesses may distribute roles across an entire team or multiple divisions.
What is the job of a Digital Marketer?
The promotion of goods and services across various digital platforms, such as the internet and mobile technology, is known as digital marketing.
Consumers are targeted both directly and indirectly using push and pull marketing strategies.
You'll be interested in designing an organization's multi-channel communication strategies as a digital marketer, and you can work across many areas or specialize in a few, depending on the size and needs of your employer.
A Digital Marketing Job Description's Common Elements-
Digital marketing's goal is to create solid and creative strategies for promoting a company's brand, products, and services.
All marketing tools and strategies, such as PPC, SEO, SEM, email, social media, and display ads, must be used successfully by a digital marketing professional.
All of the above, and more, will be covered in this standard digital marketing work description:
Recognize trends and insights.
Allocate marketing funds.
Create and implement marketing strategies.
Maintain and manage a company's website while adhering to best practices.
Content for the website and social media channels should be optimized.
Work for a variety of content types, including blogs, videos, and audio podcasts.
Keep track of how much traffic comes to your website.
Implement and evaluate success indicators.
Measure and evaluate targets in return on investment (ROI) through device experiments and conversion tests.
Daily, have internal reports.
Execute new and innovative technology and platform partnerships.
A digital marketer can operate in a wide range of sectors, and the options are limitless. Compared to other types of marketing, the work outlines point to an exciting task with great ROI and data insights.
Qualifications to Become a Digital Marketer-
There is no one-size-fits-all path to becoming a digital marketer or securing your first job in the field; most employers would want to see proof that you've proven your abilities by passing an industry-recognized introductory digital marketing course.
While other employers may prefer you to have a degree or equivalent in marketing, management, business, or a related field.
They can also expect you to have prior marketing experience and knowledge of digital marketing and online advertisement.
Studying for certification will help you gain digital marketing skills and advance your career.
Digital Apprenticeships may also offer you a route into this job.
Some schools and universities offer a digital marketing certificate course for experienced marketers who want to specialize in the digital space.
Since the digital world is constantly changing, digital marketers must keep up with all the latest digital developments and innovations, always searching for ways to incorporate them into their businesses.
Also, Read- How To Learn Digital Marketing For Free
Things Digital Marketer Professional Must Do-
Digital marketers are working on raising brand awareness and generating leads across all of a company's digital platforms, both free and charged.
Social media, the company's website, search engine rankings, email, display ads, and the company's blog are all examples of these networks.
To better evaluate the company's output across all channels, the digital marketer typically focuses on a different key performance indicator (KPI) for each one.
A digital marketer in charge of SEO, for example, test "organic traffic," or traffic that comes from visitors who found a page of a company's website via a Google search.
1. Use analytics to help you prioritize and improve your marketing activities-
In the world of digital marketing, data reigns supreme. This is how you can decide which campaign path to take.
The sophistication of data collection has advanced to the point that the insights provided are lightyears ahead of where they were a decade ago.
With detailed data at your hands, tracking main performance metrics – measurements of success in online marketing – becomes much more accessible.
2. Maintain a close eye on SEO reports and conduct keyword analysis-
The importance of Search Engine Optimization (SEO) in content marketing cannot be overstated.
It's a great way to get regular, appropriate, and organic traffic to your website, and it's usually the most affordable type of online marketing.
A savvy digital marketer must perform thorough research on what their target audience is looking for before creating content.
Diversify channels-
To increase the scope of your marketing activities, you must use any available medium. This will ensure that you meet as many people as possible, catch as many leads as possible, and convert as many customers as possible.
The following are the key platforms on which digital marketers can concentrate their efforts:
Email Marketing
Pay-per-click Advertising (PPC)
Display Advertising
Social Media Marketing (SMM)
Affiliate Marketing
Public Relations
To get the most out of the campaign, work closely with the designers and copywriters-
No such thing as a super-marketer exists. It's critical to rely on teammates with diverse skill sets to ensure that the content generated is of the highest quality.
Make sure your plan is well-communicated and works together. When the team's goals and skills are aligned and united, this can lead to unique and effective outcomes if done well and often.
What is the Role of Digital Marketer?
A digital marketer is in charge of all marketing activities aimed at promoting a company's goods. He/She is responsible for increasing brand recognition in the digital space to increase traffic and generate leads/customers.
A digital marketer also aids in the identification and evaluation of emerging digital technology by analyzing website traffic with web analytics software to improve marketing campaigns, email marketing, social networking, and display ads.
To learn more about what a digital marketer is a role and responsibility, Let's dive into more details-
Content Strategy: A digital marketer is responsible for all website content and designing and executing a content strategy to ensure online goals are met and the website's design and functionality.
SEO and SEM– A digital marketer is in charge of ensuring that the target audience can quickly find the website.
A digital marketer can help drive relevant traffic to their website by optimizing the structure and content of their website for search engines (SEO) and using paid online ads (SEM).
E-Commerce: A digital marketer is in charge of turning website visits into online purchases when necessary.
Social Networking: A digital marketer can often be in charge of a company's online identity and brand.
Businesses can communicate with their customers in real-time using social networking platforms like Facebook, Twitter, and Google+, and a digital marketer is always in charge of this contact.
Conclusion
The above list of digital marketing roles and duties provides a variety of job requirements.
The world of digital marketing is expanding rapidly, opening up a plethora of new career opportunities for you.
As a digital marketer, you must take the next step and adapt your marketing strategy and plans to the changing digital marketing landscape.