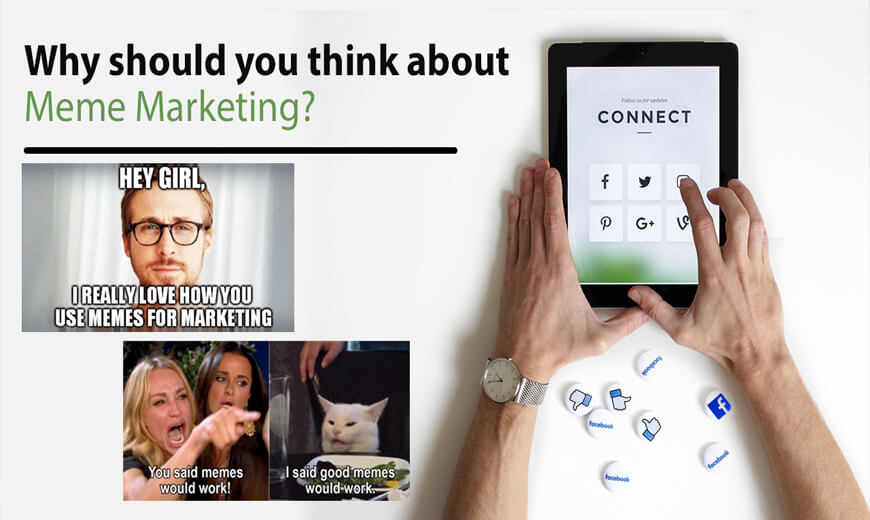 Meme marketing is one of the best methods of branding and glorifying a particular product or service. There are many companies or brands like Gucci, Apple, etc. which become a big brand as well as homemade.
The benefit of Meme Marketing is that many brands out there can be seen whose reputation is built with the help of memes and customers don't even acknowledge that this is marketing.
They enjoy the meme along with absorbing information about products or services. It is the latest method of social media marketing where you can roast a product but still, it gets people's attention which ends up with lots of conversions.
Nowadays, memes are so popular that many people run their livelihood in them. They have a page where they post memes every hour and they have thousands and sometimes millions of loyal followers.
What are memes?
A meme is also known as meem some people also pronounce it "me-me" but it's wrong . We pronounce it as "miːm". It is a joke, or something said in a sarcastic way that makes you smile. And when these jokes are shared in the form of images. Then we call it a meme. They can be seen in the form of gif or short videos.
These memes are here since the early-mid-1990s when the internet came into existence and in recent times when people started connected on Social Media then memes became popular. And it is very famous among youth although every age category enjoys it and it shows great potential and growth in marketing. Due to its growth Businesses use Meme Marketing for Business Growth.
Meme Marketing for User Engagement- For instant Viral
Meme contents are relatable to common people and teenagers so it has a high potential of instant viral and gets high user engagement. Memes are formed so that it can be shared among friends and family and this helps in covering a wider audience.
People usually share memes with their colleagues or classmates for a laugh or sarcasm in which they can relate to the content and the brand.
Unique Things about Meme Marketing
What makes meme marketing special and helpful for business growth. Below are some of the points which proves uniqueness about meme marketing
Laugh and Humor
Sarcastic speech
Easy to understand
Latest Trends
Relatable
Friendliness
Fun
Aimed for a quick laugh
Meme Marketing Services in India
Nowadays, memes have a special space inside every youngster's digital environment. The importance of meme marketing is phenomenal and due to its unique way of expressing thoughts or news in the form of laughter. It gained a huge market. And has a good scope to promote your product. Meme Marketing Services in India is a very productive and growing industry.
Since people in this decade have more money and high purchasing power so marketing is taking a shift from offline to digital marketing and now meme and influencer marketing. Meme marketing connects B2C and responsible for brand building everywhere in the world.
Why Digital Socialite?
We are a leading digital marketing company in Jaipur. Our experts share malvertising tips for brands and agencies. We offer reliable and cost-effective Meme Marketing Services in Jaipur.
Trending
You should be updated on all the recent news around the world. And also what people think of it. Memes have a very small time impact as when the news gets old it will no longer be impactful.
Also, Read- 10 Reasons Why Your Business Should Focus on Digital Marketing
Connecting to Brand
Memes should be funny is the basic need of a meme together with this it needs to be attached to a Brand. Or it will be giving information about a particular brand or related to it. The meme should fit into the brand and should not be seen as promoting a particular brand. The meme should be natural and used for promotion for a very short period of time. Otherwise, customers or viewers will no longer feel them funny.
Template Aesthetics
The post should be so that they can relate to them. You should not deviate from your path of giving laugh to the viewer. Having insights into the meme culture will help you find the right balance.
Distribution
Distribution is one of the significant pillars of a meme marketing campaign. You need to make sure the end-product goes live while the topic is trending and during high-chatter periods. The amplification should be swift and should last for a short period.
You can also use meme pages the same way use influencers to reach an audience beyond your followers.
Conclusion
Meme Marketing is the most innovative way of marketing, and the best part is that the audience doesn't even know about it, but they are already influenced by it.
Some big companies, like Apple, Zara, etc., are great examples of meme marketing. The digital socialite has the edge over this field as we are working on this concept for 2 yrs.
In this changing world, businesses are looking for a different method for marketing their product. Marketing strategies using meme comes out as one of the toppers in marketing.
In Meme marketing, a smile and relative content to the viewer this what people commonly think. But actually, it is about showing a particular product for one post a day or week.
As daily memes related to a product will make people irritated. So you need to be curious regarding this. Digital Socialite is the right company in Jaipur that will help you grow with this technique. With a very innovative team, We offer services like SEO, SMO, PPC, Web Design & Development. We are the best choice.