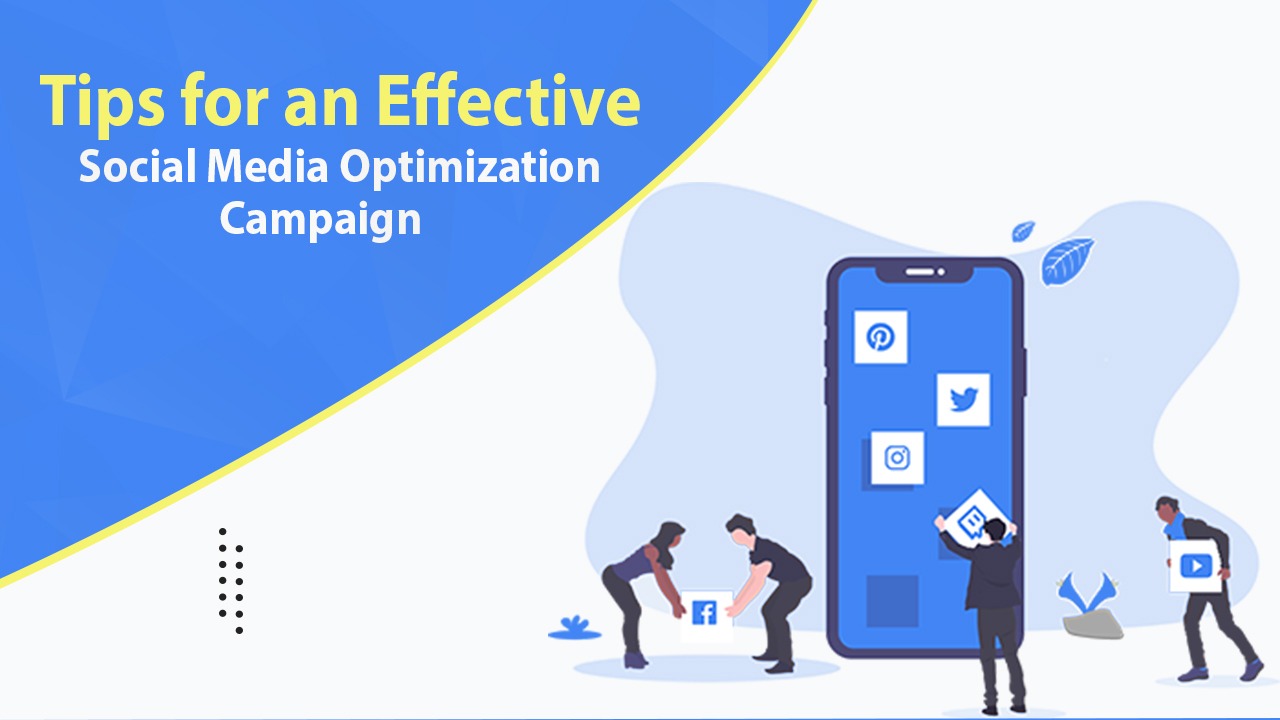 A large population of the world checks their social media accounts regularly every day. This is an advantage for businesses to get their business online. Just uploading different posts on social media every day and regular tweeting won't give magical results.
Social media optimization will make your campaign more effective to derive more conversions and leads for your business. Social media optimization campaigns take constant research, hard work, and smart strategies. You might require a professional or mentor to guide you to avoid wasting time and energy.
It is also not just inviting friends and website visitors to like your page. There is a need to maximize social media plans to connect with your audience.
What is Social media optimization?
Social media optimization is using social media platforms such as Facebook, Instagram, Pinterest, YouTube, and Twitter in the right manner to get effective results. Effective SMO campaigns increase sales, generate quality traffic, making brands more known, and enhancing online presence.
Also, Read- The Future of Digital Marketing Services in India
How does the Social Media Optimization Campaign work?
Social media optimization Campaign will include setting up the Facebook store, making a mark on social media networks and evaluating the results, and more.
Social media campaigns are implemented using the right tools and techniques to increase interaction with the right target audience on social media pages and engage them through feedback, solving queries, and motivating the customers to ask questions.
Some Tips for An Effective Social Media Optimization Campaign:-
Clear on what you want from the Social media campaign
First, clarify your goals for what you want to get from your campaigns. You may want to increase your brand exposure, earn conversions, driving leads, and create awareness of your new launch.
Clear goals will let you make the right strategy for your optimization campaign. Clarity of plans allows you to use campaigns for getting the right traffic for your business.
Conduct keyword research
Keywords play an essential role in social media optimization campaigns. People use different keywords on social media to search for their needs. You need to select the right keywords, hashtags, and topics to assist your audience in finding information about your business.
A proper understanding should be there on how audiences search on social media to invite more audience for your page. Social media analytics tools such as sprout social, HubSpot, Tapinfluence, curate, BuzzSumo can be used to get a deep insight into your performance on social media pages.
You can compare your multiple social media pages, Instagram follower growth, and duration of stay on your Content.
Also, Read- Why SEO is Important for Your Business? | SEO Company in Jaipur
Optimization of social media profile
Creating a profile on social media is easy. Yet, Social media optimization is always missed out. The optimization should be focused on uploading logos on a profile pic, build your brand recognition by having an attractive tagline, and carry the same username, which will make people find your business easily on social media.
The bio should be complete by stating the business of your company with the use of keywords. You can also add a trackable link to your website so that people can know more about your business.
Quality and optimization of Content
Content should be optimized and should provide complete information. Content should be clear and specific. It should say everything in minimum words.
Consumers want to know about what they get out of their services and using products. It would be best if you focused on providing them the benefits of using your products and services.
Quality content is a must drive traffic to social media. In other words, you should use original Content. Try to upload the real snap of your products.
Consumers will believe more when real posts of products are used on your social media pages. You shall also use original graphics to share on Twitter, Linkedin, and Facebook.
Curated Content is Content used with the help of the internet. Share only the relevant and valuable content to your audience. First, find out the Content your audience is looking for then, frame out the best Content to attract them.
Follow up of calendar for posting.
The time of posting is significant to let your post reach the right audience at the right time. You need to find out the best time for posting for your audience. Sprout social helps find the right time of posting to ensure high engagement.
As per the survey, people are highly active in the morning and night on weekdays, and people are engaged at noontime on the weekend.
Regular tracking using social media analytics
You can use social media analytics to know the best time to post, the best social platform working for your growth, and Content that gives the best results.
Social media analytics also help understand competitors that can be used to create your own unique data better from competitors. You can even know if your social media campaign is performing well in the market. For best long term results, make sure that you are tracking your analytics consistently.
Also, Read- 8 Things You Should Look for In A Digital Marketing Company
Proper use of hashtags
Your SMO campaigns should always integrate hashtags. Proper research should always be conducted for identifying the hashtags which give immediate results. Trending hashtags should ever be used for better reach of the business.
No one wants irrelevant tags on social posts. Therefore, a strategy should be used to apply hashtags, making it easier for people to identify your Content.
Check closely if your campaign is working.
Regular monitoring of social media campaigns is inevitable to ensure if the social media campaign is going right. Monitor your comments, likings, followers, shares, comments, and conversions. As we have discussed above, social media metrics should always be part of the monitoring process.
Conclusion
Social Media Marketing and social media campaigns will give better results and drive your business. Most social media can only be obtained when you are optimizing your campaign. It would be best if you used the tips and tools for getting more leads and conversions.
Overall, Social media optimization campaigns are required to create a compelling business profile on social media networks, post products, and services, and hit the right audience. Suppose there will be an effective social media optimization campaign.
In that case, anyone looking for your kind of products and services will quickly reach your business and get the right information on your social media pages. You have to make sure that you take the best from social media platforms.
If you need an effective and budget-friendly social media optimization campaign for your business, you can contact us, online@digital socialite. Digital Socialite is a leading social media optimization company in Jaipur and we have an expert team to help you best in social media marketing and advertising services.