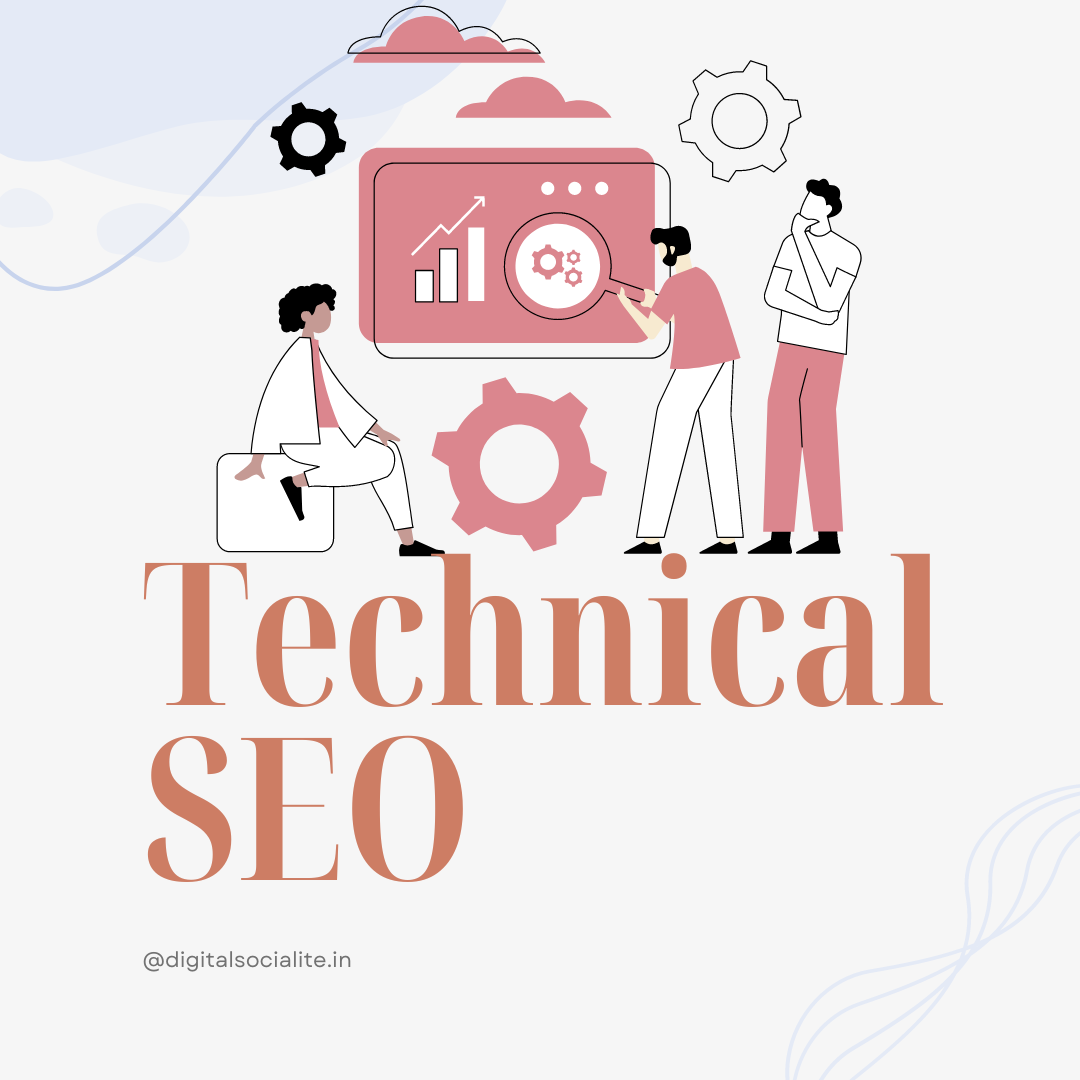 On-page SEO and an effective Content Marketing strategy are valuable to many website owners, but technical SEO is frequently disregarded because it seems "complex." However, technical SEO services in Delhi are necessary as it enables search engines to crawl your site and place it at the top of the search results.
Putting in the time and effort to create a high-quality SEO game. SEO determines your position on the SERPs (especially for organic searches) and whether internet users can find you online. It is one of the most effective tools for increasing your brand's visibility and usability among online users.
Technical SEO encompasses all the components that make your website responsive to mobile devices, quick to load, simple to use, and functional. Without it, you might have a visually appealing website that loads slowly, is inaccessible on mobile devices, fails to direct visitors to the information they seek, and experiences technical difficulties when customers attempt to contact you to make a purchase.
Although SEO is a fundamental component of digital marketing, today's discussion will center on technical SEO.
How does technical SEO work
Technical SEO is the process of making your website as crawlable and indexable as possible. In other words, technical SEO improves the content, design, and coding of your website to make it easier for search engines to access, crawl, understand, and index it. This increases your website's visibility and ranking in search results.
Since the primary goal of this aspect of SEO is to optimize the website's infrastructure rather than its content, the prefix "technical" is added before SEO.
Because search engine algorithms are constantly evolving (and becoming more complex with each update), it is essential for marketers to adjust their SEO and technical SEO strategies in order to maintain and boost search engine rankings. An SEO company in New Delhi can both optimize the performance of your site/webpage and enhance the user experience for visitors browsing through your site across multiple platforms by developing and implementing a solid technical SEO strategy. Over time, this raises the visibility of your website and increases organic traffic to your pages.
Importance of Technical SEO
Let us talk about some crucial aspects of technical SEO and why they are essential: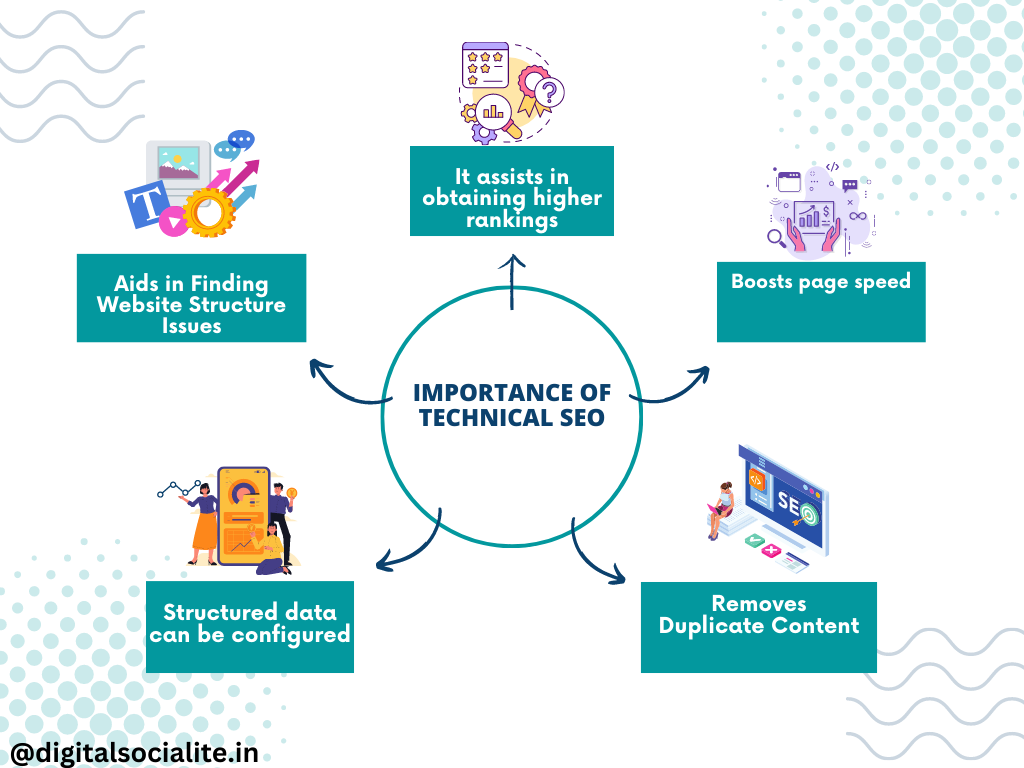 1. It assists in obtaining higher rankings
Technical SEO helps you increase the visibility of your website for search terms, which increases traffic to your landing pages. Google can efficiently index and display content with a clear website structure, supporting and enhancing your organic results.
Google is a strong proponent of speeding up websites. Making sure that web pages load quickly will make them much more popular than rival websites that do not consider page speed as a key ranking factor. Overall, technical SEO can help you find and remove any obstacles that users may encounter while navigating the site, improving CRO outcomes.
2. Boosts page speed
Enhancing page speed, which Google considers to be a significant ranking factor, requires technical SEO. A website that loads quickly will probably appear higher in search results, while one that takes longer to load will only cause visitors to leave the page more frequently and generate fewer sales.
A few actions you take could help your website load faster. This requires the use of multiple CSS style sheets, a small number of HTTP queries, and quick hosting. Making every effort to eliminate unused spaces, line breaks, and indents from your HTML, CSS, and JavaScript will help you to compress your web pages and shrink the size of your image files.
3. Removes Duplicate Content
Canonicalization is the most effective method for removing duplicate content from URLs. When there are multiple URL options for a single page, this is the process for selecting a preferred URL. It is best to refrain from using redundant content. We can reduce the likelihood that the same content will be used by performing routine technological checks through SEO services in Delhi.
If the same content appears on multiple pages of your website, the search engine will penalize you. To avoid repetition, use heading tags, titles, and meta descriptions to distinguish one page from another.
4. Structured data can be configured
Structured data is necessary for every website to operate properly, especially in terms of efficiency. Simply put, structured data markup is coding you add to your website to help search engines understand the content. With the aid of this information, search engines may better index your website and provide more relevant results.
Search results are also improved by "rich snippets" offered by structured data, such as the addition of star ratings to reviews. These better results can increase CTR and drive more visitors to your website because they are more aesthetically pleasing and clearly highlight important information for searchers.
5. Aids in Finding Website Structure Issues
Internal links that go to deep pages are a significant additional factor. The pages of your website should be three clicks away at most. If this is the case, you should concentrate on flattening the structure of your website.
Simply put, the deeper a page is buried, the less visible it is to users and search engines. Pages that require more than three clicks to access will be listed in the section of your site audit report that highlights issues. Additionally, it is crucial to validate your XML sitemaps. A list of all the pages and content on your website can be found in a file called an XML Sitemap. It contains the names as well as the release and most recent update dates.
CONCLUSION
Technical SEO is a broad topic that gives you lots of opportunities to play around with the structure and design of your website to improve search engine rankings. It is a crucial component of developing a flawlessly optimized, effective, and usable website that guarantees a seamless user experience. Any SEO strategy's success depends on technical SEO services in Delhi. A technically perfect website must have flawless internal linking and smooth page loading.
read more-Boost Your Digital Strategy with SEO Services in Delhi NCR & Content Marketing