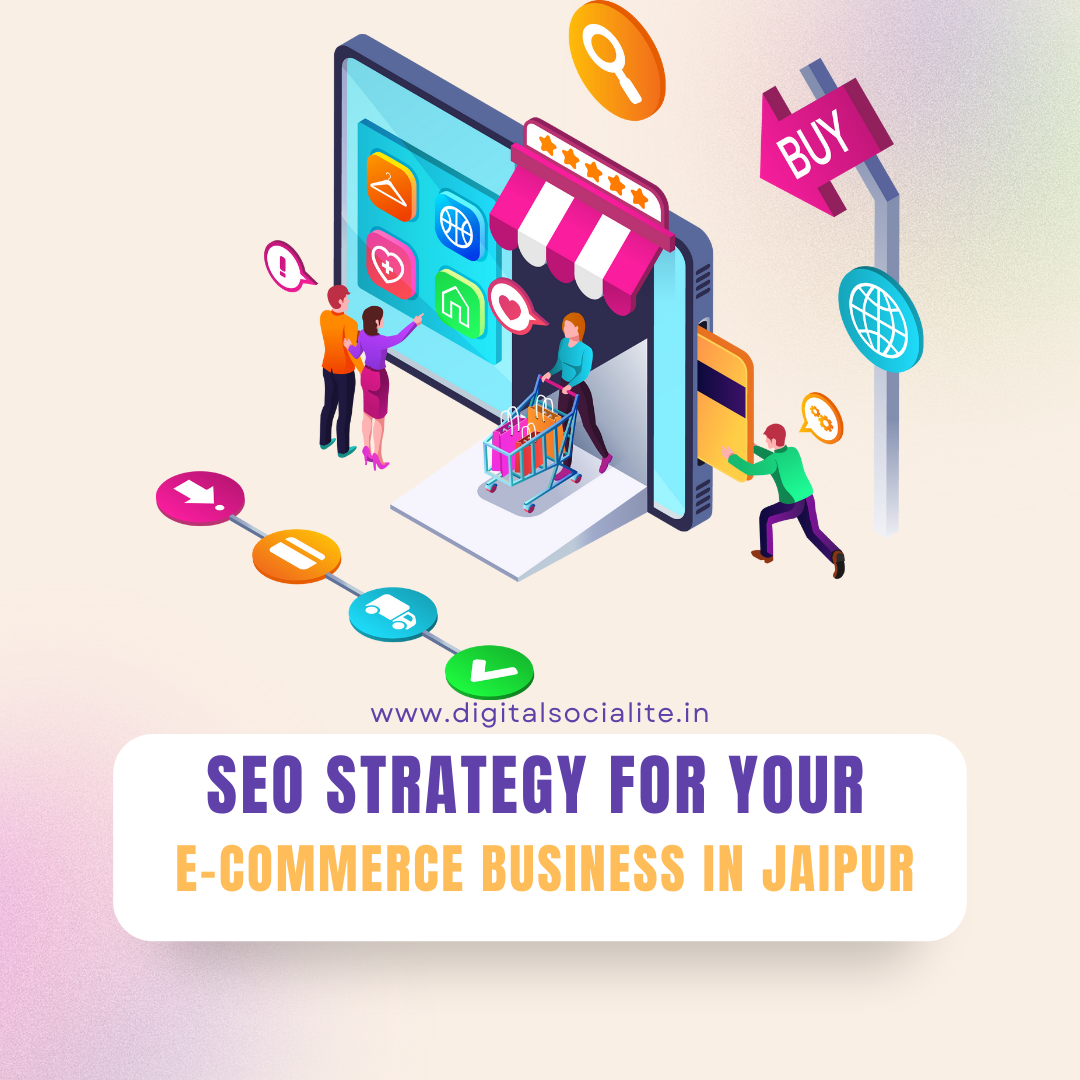 While SEO appears more scientific, with specific keyword analyses to draw in as many eyes as possible, social media is meant for forming relationships and engaging with your audience. However, these two elements of inbound digital marketing in Jaipur can complement one another and enhance their respective effects. You will see that a compromise is possible in this blog. Any marketer can use this guide to integrate their efforts between the two platforms.
Posting and optimizing your content on social media platforms like Facebook, Twitter, and Instagram is referred to as social media management. Making your website or content more searchable is part of an SEO strategy, and it helps people who are looking for terms or questions about products or subjects related to your industry find your site in the results.
Role of social media in SEO
You can enhance your social media profiles using social media SEO to better entice potential customers. On different platforms, SEO best practices will differ. Finding the right audience for your brand and exposing them to goods they might purchase remain the same objectives, though.
Despite being two very different approaches, social media management and SEO optimization can work together. You can increase traffic from a variety of sources by utilizing both. People can use social media to find new brands or content that may interest them. In the meantime, SEO enables you to attract visitors who are looking for terms or questions related to your company.
Information discovery is aided by search engines and social media platforms alike. To find an answer to a question, people use Google. Social media is used by people to find answers to questions they have not yet considered. For instance, Instagram search is a key component of the app.
Effects of social media on SEO
Although social signals are not formally used by search engines as a ranking factor, there are still advantages to combining these two tactics for digital marketing in Jaipur. This is because when you receive a lot of traffic to your website, search engines take notice and view your brand as reliable, pertinent, and of high quality.
A higher search result may be obtained using these criteria. Therefore, you might see an increase in traffic if you post engaging, clickable content on social media. Additionally, it may improve your page authority and rankings if people share the links to your posts on social media.
10 Tips for Crafting an Effective SEO Strategy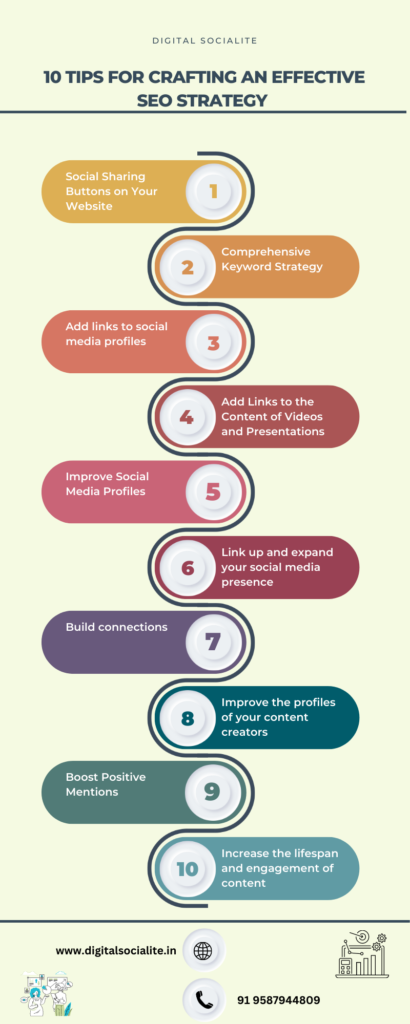 1. Social Sharing Buttons on Your Website
 Although it may seem obvious, Google and other search engines are starting to use social media sharing data to affect search rankings. In order to encourage visitors to share content, it is imperative for marketers to have social media sharing buttons on their blogs and websites. These buttons not only aid in boosting social media traffic but also significantly impact search engine rankings.
2. Comprehensive Keyword Strategy
The distinction between search engines and social media platforms is blurring, as was already mentioned. When appropriate, use the same keyword strategy you use for your website for your social media engagement.
This does not entail stuffing tweets with keywords. Instead, pay attention to the language you use in social media messages. You can broaden the audience for your messages on social media by incorporating keywords into your content.
3. Add links to social media profiles
Typically, no-follow links are used in social media messages like tweets and Facebook status updates. This indicates that they do not transfer any SEO authority to the website they link to. The URL in a social media account's actual bio is a follow link, even though this is beginning to change. As a digital marketing agency in Jaipur make sure you are utilising these additional opportunities to bring traffic to your website.
4. Add Links to the Content of Videos and Presentations
Those social media sites that make it easy to share content, like YouTube, LinkedIn, and SlideShare, are among the most effective. Be sure to include links to relevant blog posts or other content on your website when sharing content on these kinds of apps. Yes, this will boost website traffic, but it will also aid in the creation of new inbound links.
5. Improve Social Media Profiles
Consider the profile pages you have on social media as extensions of your website. Examine your social media profiles to make sure they reflect your website's search engine optimization strategy, just as you would your website pages for page titles and keywords.
6. Link up and expand your social media presence
Inbound links to your website have long been a key component of search engine optimization. While inbound links continue to be important, social media reach should be a secondary metric for marketers looking to boost search traffic. You need to increase the number of fans or followers on your account if you want more people to share your content on social media.
7. Build connections
Relationships are crucial for generating inbound links and social media attention, much like sales. Using social media to establish relationships can lead to opportunities for guest blog posts and other link-building strategies.
8. Improve the profiles of your content creators
The creators of the content on a web page are highly scrutinized by search engines. In order to better assess the author's credibility, search engine crawlers also gather data from social media platforms.
9. Boost Positive Mentions
A strong social media presence can help your digital marketing company in Jaipur build rapport with your audience. Having online mentions that increase your brand's visibility and favorable awareness is essential for achieving this. Engaging content and personalized platform posts can promote positive mentions.
10. Increase the lifespan and engagement of content
Your content can live longer thanks to social media sharing. Utilizing hashtags, mentioning influencers, and holding giveaways to encourage engagement are a few tactics to increase engagement. Use shares, comments, and likes to keep track of this.
CONCLUSION
Regardless of whether social media has been a part of your SEO strategy, you should now have a better understanding of how to connect the two for digital marketing in Jaipur. The material and item are already available. It is now up to you to put these suggestions into practice by collaborating and working across teams.
Ultimately, each strategy will need to be customized to your brand, so experiment with the ten suggestions above to see which works best.
Read more-Boost Your Digital Strategy with SEO Services in Delhi NCR & Content Marketing