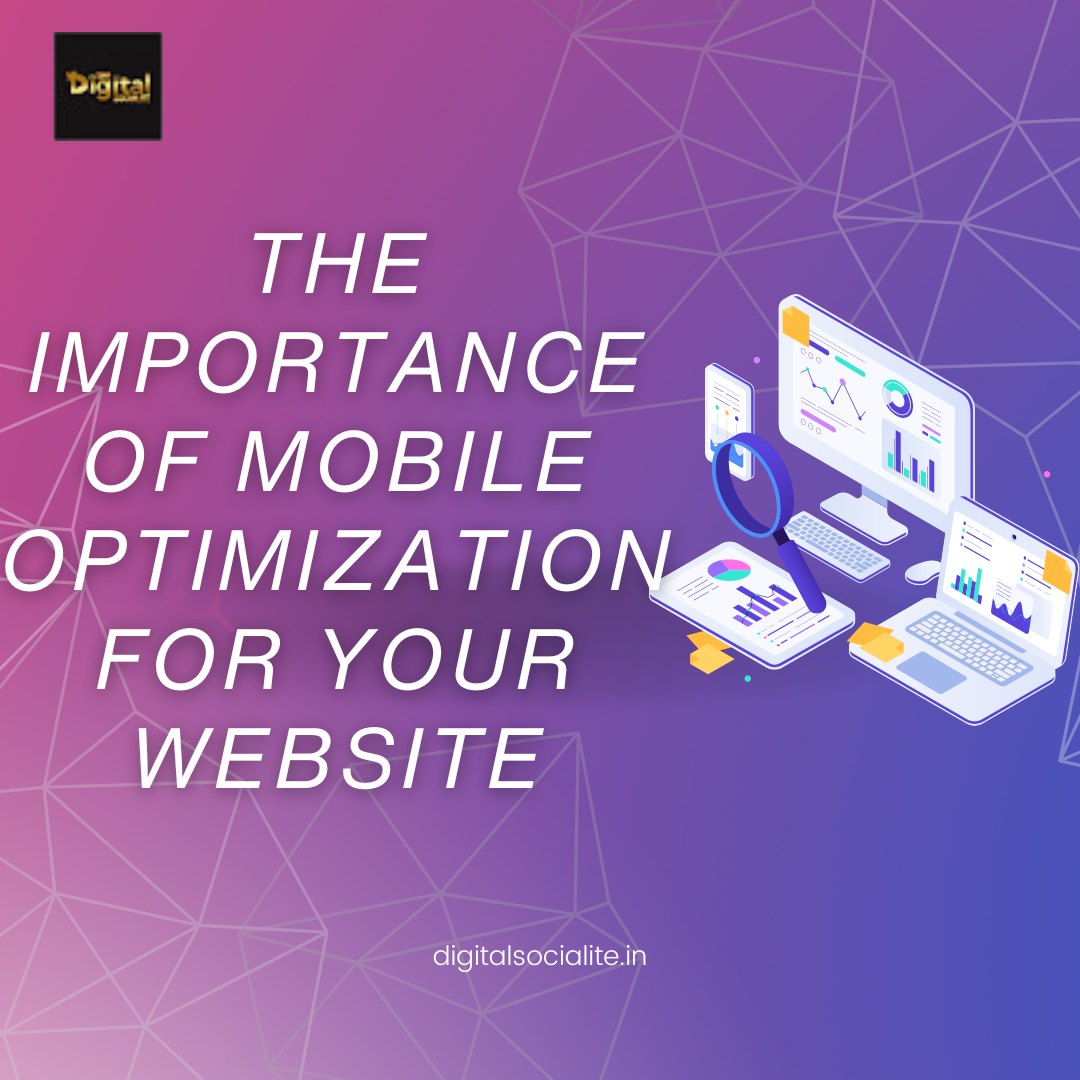 Your website is your best salesperson because it is accessible to potential customers around the clock. What use is it if it cannot be used on the device that a visitor is most likely to use? Businesses across all sectors should think about mobile optimization as online browsing and commerce move to smaller screens with the help of SEO services in Delhi.
How does mobile optimization work?
Making your website and other digital content mobile-friendly is a strategy for ensuring the best possible user experience. Although mobile browsing is practical for potential customers, it has some drawbacks, such as a small screen size and performance issues caused by lags in the network.
Why would you bother investing time and effort in mobile optimization given the obstacles in your way? The answer is straightforward: Your company should prioritize mobile optimization because it will benefit both your clients and the search engines that feed them content.
Why is the importance of mobile optimization to prospective customers?
Visitors to your website are there to view your content, so that is why they are there. However, your potential customers are likely to leave your page if they encounter a poor layout, difficult navigation, and unresponsive images. Why would you present your business differently online if you would not make it difficult for customers to enter your store or use outdated racks to display your merchandise?
No matter what device they are using, you should provide your website visitors—who are potential customers—with an exceptional experience.
Best Practises for Mobile Optimisation
You should adhere to mobile optimization best practices because user experience is so crucial and most site visitors access it via a mobile device. Here, we have compiled our best advice for you:
1. Optimise your website for search engines
It gets a little complicated, but the bottom line is this: when you assist Google, Google assists you. You can add more structured data to your website's backend, which will make it easier for search engines to crawl and rank it. Any additional header tags, meta descriptions, or schema markups that you provide can give the search engine "bots" more of a structure to hold onto while crawling the code of your website because search engines profit from providing their users with the highest caliber information possible.
Why is this important? The more information the search engine has about your website, the better it will be able to recommend it to users who are looking for content like yours.
2. Use a responsive web layout
While you can adapt the design of your current desktop website to make it more user-friendly for mobile devices, a responsive website is a real secret to convenient content viewing. Instead of requiring excessive zooming or horizontal scrolling, responsive site designs will automatically resize and adjust your content to fit the size of the screen it is being displayed on. To better display your content without detracting from the user experience, this can involve streamlining menus and rearranging on-page modules.
3. Make load time optimizations
Whether or not a visitor will stay on your page or leave it can depend on how quickly your page loads on a mobile device. Your website should ideally load in 1-2 seconds, or at the very least, the content that is visible above the fold. According to Google, 53% of users of mobile websites will leave a page that takes more than three seconds to load.
The speed at which a page loads is important for both your users and search engine rankings. Google wants to direct its users to websites that offer a fantastic user experience. Therefore, Google's algorithms will be less likely to recommend your site to users by showing it near the top of search engine results pages (SERPs) if your slow website is going to irritate visitors.
By performing site optimizations like minimizing redirects, removing unnecessary code and scripts, resizing, and compressing content, and utilizing caching, you can take measures to decrease your load time.
4. Simplify your navigation and content
Real estate on small screens is scarce, so utilize it to its full potential. Every piece of content you create should advance your message; pay more attention to the quality than the quantity of your content. Sometimes, as the saying goes, less is more.
Making the most of a small area requires careful navigation, so keep that in mind. The majority of mobile users can navigate intuitively using a condensed menu, but you should make it simple for them to return to your homepage in case they need to. Above all, check that your site's navigation has been streamlined and is consistent throughout.
5. Ensure that your text is sizeable and readable
Even if your visitors have good vision, if the text on your website is small, it will be even smaller on a mobile device. By limiting the number of fonts on your website and using a straightforward, sans-serif, non-stylized font that is at least 14-point size for your main blocks of text, you can prevent frustrating your visitors. Your text is too small if readers need to enlarge it in order to read it.
The quantity of text on your page affects optimization as well. Navigating a huge block of text with no breaks can be confusing and frustrating for readers. Make sure your text blocks are manageable, and you might want to use bullet points to divide your content into manageable sections. Adding strategically placed whitespace, images, taglines, or testimonials can also help break up long passages of text.
CONCLUSION
While it may be tempting to stuff your website with amazing details about your product or service, you need to consider the type of device your viewer is using and how that will impact how they interact with your site. You can optimize for business in general by optimizing for mobile devices. Connect with the Digital Socialite and enjoy the perks of the best SEO services in Delhi right away.
Read More-"How to measure the success of your digital marketing campaigns: Tips from a leading agency in Jaipur"