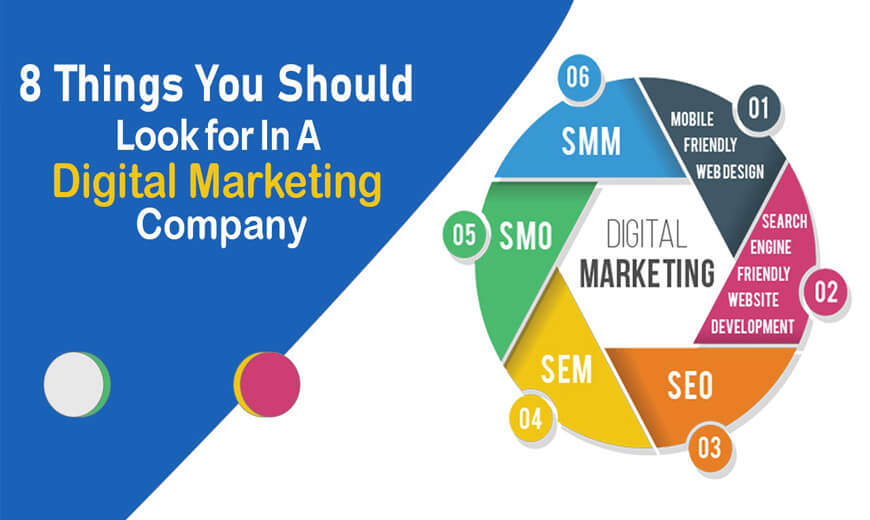 Times have changed and so have the behaviors & decision making, purchasing patterns. Nowadays, people prefer to go with brands with a more significant online presence, brands about which they have heard or seen multiple times on Social Media.
So making a robust online presence is the need of the hour! To build that commendable presence, one needs to either have an in-house digital marketing team or Hire a Digital Marketing Company.
Now few questions come:
How to hire a perfect Digital Marketing Company? or
What should I look for in a digital marketing agency? or
How do I choose an excellent digital marketing company? or
What should you consider when selecting digital services? or
How to find the right internet marketing company?
Things You Should Look for In A Digital Marketing Company
So all these questions are self-explanatory, and here are the top 8 things you should keep in your mind while hiring a Digital Marketing Company:
Recommendations and Review
While picking up the best Digital Marketing Services, always ask the company to provide previous track records. Performance reviews of their earlier clients can tell you if they can offer the same work level required by you. It is always risky to hire a company that does not have previous track records /testimonials. It means either they are new to the industry or do not good clientele.
The Agency's Online Presence
Now you are looking for an Internet Marketing Company, so it obvious what they are selling to the world. Are they using online platforms to the fullest? Or at least you should know what kind of Facebook Marketing Services or Instagram Marketing Services they are using for themselves.
Do they have unique and appealing marketing techniques?
Is their Business ranking in the Top 5 on Google Business Page?
Their past work
Now checking on Past work is different from Reviews and Recommendations from their previous clients. Here we suggest checking the quality of graphics they have made, or website they have designed, or the campaigns they have run previously.
This gives you a brief idea of what kind of output they have generated at what cost. This showcases their professional caliber. And help you decide whether to go ahead with them or not!
This field is associated with Information and Technology, so constant changes are expected. Their past performance will help you track down their ability to adapt to the last changes and help their clients by giving the best output.
Also, Read- Why SEO is Important for Your Business?
Strategic focus
Every brand has a different target base so understanding this difference and formulating strategies is an essential task in the Brand promotion.
Being one of the best digital marketing companies in Jaipur, we strongly suggest going ahead with an agency with some case studies that showcase how they offered different plans to different clients. A set target accompanied by a focused strategy is a great pick!
Transparency
Transparency plays a vital role in choosing a digital marketing service provider! A company that shares regular reports and maintains transparency regarding performance is always a better catch!
Suppose your Digital Marketer shares weekly or monthly reports of performance. In that case, it automatically builds a trust worth long term relationships, and you can surely rely on them when it comes to monetary campaigns.
Even if the targets are missed by chance, you will know that your Digital Marketing Team has put up sufficient efforts, and you can give them a second chance.
Tools
Now, this is a little dicey- Tools! Because usually, no Digital Marketing Agency shares its secret formula! We surveyed a couple of digital marketing company in Vidhyadhar Nagar, Jaipur.
Results showed why consulting clients no digital marketing service provider is comfortable sharing the details of the tools they would be using to generate the traffic or content creation or Campaign Optimisation!
However, they are other Digital Marketing Services like Web Development, Google Ads, or Facebook/Instagram Ads for which few platform details and tool details can be or should be discussed before initiating the project.
Level of Operation
Digital Marketing is Internet Marketing, so remote working or work from home is a not so fancy office is acceptable when you visit Company's office. And this won't give a clear picture of the level of operation.
So, there are other things you should notice or ask your Digital Marketer:
Team Size: A sufficiently bigger team size confirms that the Digital Marketing Company has sufficient business in hand.
Infrastructure: If you happen to visit the office, a decent setup with required devices clarifies that it is not a one-person army. And that they have back resources if anything falls out.
Ongoing Projects: It might be the case that the Digital Marketing agency you are consulting had outstanding projects in the past, which they can provide as reference and reviews. But what about their present situation? Are they getting enough business? It would be good to know how many current clients they are working with actively.
A focus on Value, not price.
Many new or small Digital Marketing Companies offer very competitive and lucrative prices compared to the prominent once established in the market. Most people do research accurately on all the points mentioned above; however, they fail when it comes to PRICE, especially when it comes to Digital Marketing Services in India!
Conclusion
So here are a few questions you need to ask yourself!!
Somebody might offer you lower prices, but are they promising to deliver the same value? Are they even competent to provide the same Value? If the price difference is enormous, how are they managing it – are they compromising with quality?
Think and then decide. There will always be someone ready to work at lower prices – But is it worth it?
Why Digital Socialite is the best digital marketing company in Jaipur?
Watch this video and decide why you should hire a digital socialite for the best digital marketing services at a reliable cost.
Digital Marketing Services We Offer:-
These are the few points that will help you choose the best digital marketing services for your brand! Stay tuned for more informative content on Digital Marketing!!