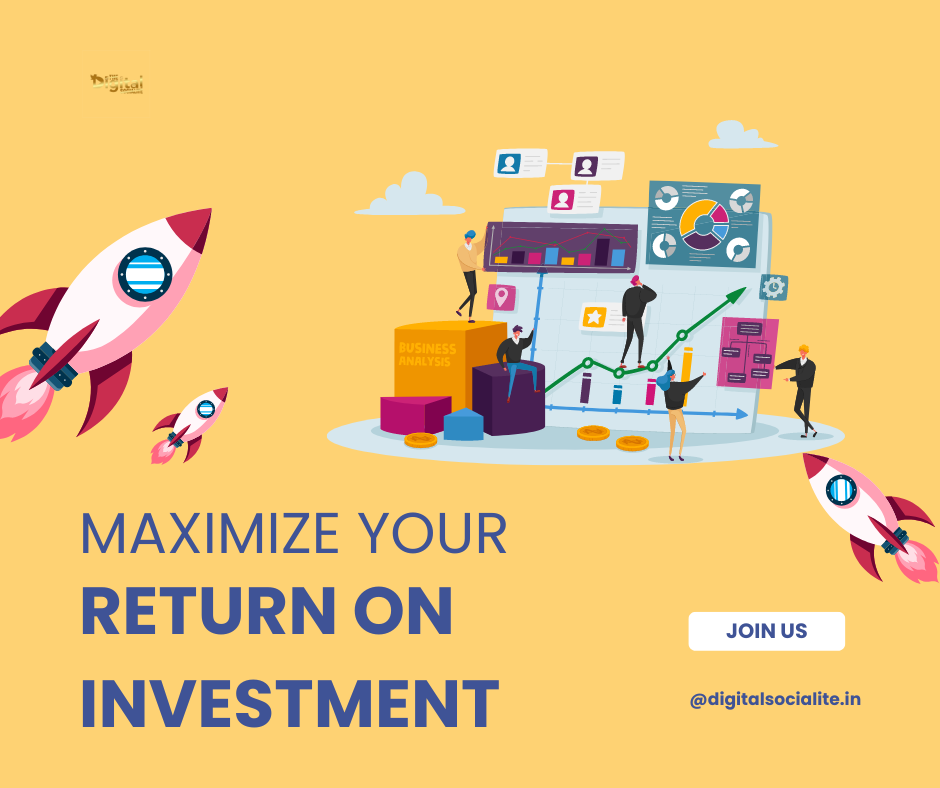 The goal of digital marketing is to achieve a positive return on investment (ROI). Maximizing your ROI is critical to your company's success and growth. However, achieving a high ROI can be difficult, particularly if you are unfamiliar with digital marketing techniques. This is where working with the best digital marketing agency in Jaipur, the Digital Socialite comes in handy. In this blog post, we will look at how a digital marketing agency can help you maximize your return on investment.
Need for digital marketing in Jaipur
Digital marketing is simply the online promotion of your goods and business using the most recent technological advancements, primarily on the internet but also including mobile devices, display advertising, and any other digital medium. People in this digital age are so technologically advanced that most of them have smartphones, laptops, or tablets that are connected to the internet, which is absolutely necessary or probably a requirement. This effectively illustrates the reach and importance of digital marketing. Through all conceivable digital channels, digital agencies significantly increase your brand awareness and lead generation.
If you want to maximize your marketing message, you need a team of experts that can only be provided by a digital marketing agency. When compared to in-house teams, digital agencies work more efficiently. A digital agency will provide you with higher-quality marketing content in less time. Hiring an outside digital agency will benefit you in a variety of ways, but most importantly, it will improve your bottom line.
Here are five concrete reasons why working with a digital agency can boost your marketing ROI.
1. Process that is Clear and Intensive
To put your best foot forward in the world of digital marketing, you need a team of experts and a well-defined process. Digital agencies have "been there and done that" and have tried and tested methods for determining what works best in any situation. They combine various marketing strategies to ensure that your brand reaches the right audience through the right channel.
Experts at the digital marketing agency in Jaipur can optimize, manage, and set up effective campaigns. Agencies that specialize in a single industry have extensive knowledge of that industry and the best ways to market it. Digital agencies are constantly learning in order to keep up with the latest changes and advancements in digital marketing.
2. Best Practises
Digital professionals have the knowledge and experience to recognize quickly which tactics will and will not work for a particular strategy. Long-term strategies are frequently important in digital marketing. You should position yourself as a leader in your industry not just for the next week or year, but for many years to come because you are in business for the long haul. You can continue to attract prospects who will eventually become your best advocates by utilizing a focused digital strategy team with the knowledge to comprehend the appropriate tactics.
3. Internal personnel
An in-house team is more expensive to hire than a digital agency. First off, there is no need to hire and train internal staff, which would be prohibitively expensive beyond just salary. When you hire a digital expert, you only have to cover their costs; they won't receive a salary, payroll taxes, health insurance, or any other benefits that your company provides.
When you work with an outside digital agency, you have access to their entire staff, and that staff can scale quickly to meet your changing needs and expansion requirements.
4. Experience Is Important
The marketing environment of today is more complex than ever. You can use a variety of resources, including emails and social media platforms, to expand your brand. The top digital agencies are already aware of the best strategies for utilizing these resources to their advantage.
Even without an internal marketing team, the best digital marketing agency in Jaipur can help your company expand. As your marketing requirements change, they can scale marketing campaigns based on their expertise, people, resources, and experience.
New ideas are a huge advantage of working with an experienced digital marketing team. A new viewpoint on your company from knowledgeable outsiders who have probably worked with companies like yours in the past. Compared to an internal team, a digital agency offers more innovative ideas. An outside agency can help you promote your brand more successfully because they have a different perspective on your company.
5. Results-Oriented to Boost Your Marketing ROI
Simply put, a digital marketing company will give your company a consistent and dependable increase in return on investment. Higher ROI translates into higher company profits. A digital agency that costs a little more upfront will yield a much greater return over time. Digital agencies are experts at focusing on the areas that will yield the greatest returns. They offer the best value for your money. In order to increase your ROI and increase its overall effectiveness, a good digital marketing agency will continuously test and rework its strategy.
CONCLUSION
These five benefits of working with the best digital marketing agency in Jaipur, the Digital Socialite can lead to a much better return on your marketing dollars. Employing a digital marketing agency will aid in lead generation and brand development for your business.
Read more-Partner with the Best SEO Company in Delhi for Maximum Results