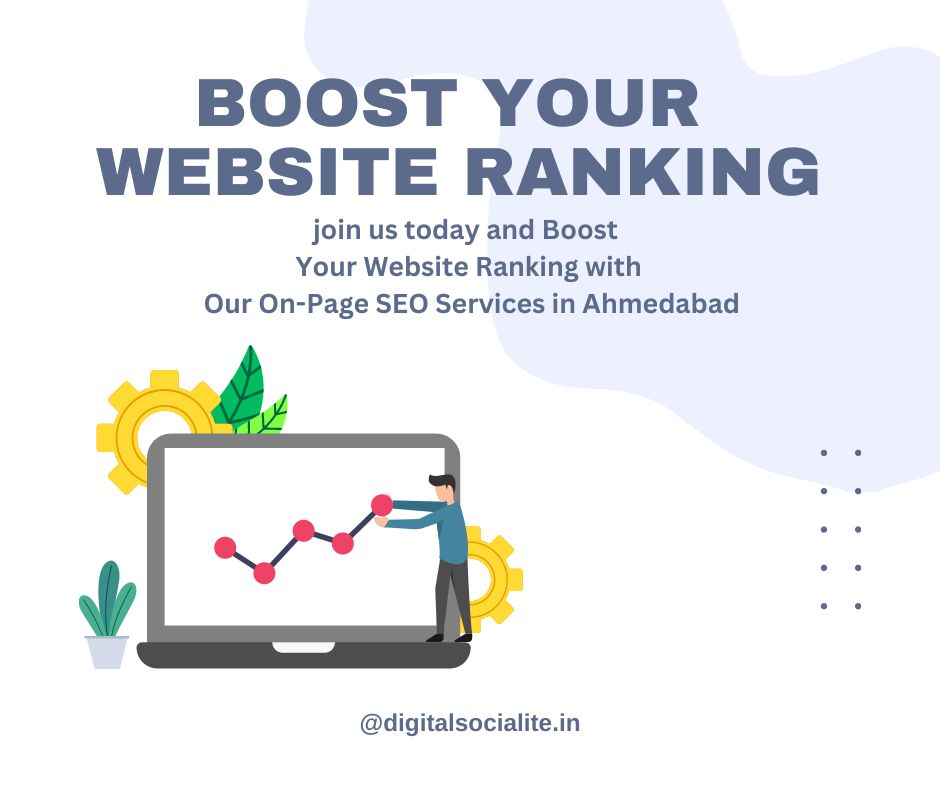 Many people wonder how to improve SEO through on-page SEO services in Ahmedabad in order to rank higher in search results as the Internet keeps growing. There is fierce competition for visitors, so if you want to succeed, your website must be outstanding.
Consider it this way: Anyone who is not visiting your website is reading the content of your rivals. This means that if you want to stay competitive, you must learn how to improve your SEO on Google.
We will discuss some of the best techniques for doing just that in this article.
How to Boost Your SEO Ranking
Owning a successful website requires a lot of time-consuming work called search engine optimization. However, if you can attract thousands of people to your company or blog, the effort will be worthwhile. Here are some suggestions for how to raise your Google SEO rankings.
1. Establish a Mobile-Friendly Environment
Over 52% of Internet users are currently using mobile devices like smartphones and tablets. This means that if you want to engage those users, your website must be mobile-friendly. But it requires more than just a responsive design. A website's design and images, as well as other factors, all have an impact on how mobile-friendly it is. Not all media types and technologies work with smartphones.
Nowadays, speed and effectiveness are everything.
2. Maintain a quick site speed
Your site's continued speed and effectiveness are crucial in today's Internet-driven world. 42% of users anticipate a website loading in under two seconds. If they do not like the experience, the majority will not return. A slow website has an impact on users beyond just humans. Ineffective websites will have a lower ranking on Google. A slow website will therefore show up lower in search results.
Reduce the number of resources your site uses by using caching platforms. Use techniques like lazy loading and smaller sizes to optimize the use of images. Use as little JavaScript as you can. Reduce the number of outside sources and anything that takes information from another website.
Keep in mind that Google prioritizes "quality" results, which include website performance and speed.
3. Work to acquire high-quality backlinks
For Google, high-quality backlinks function as a voting system. The search engine is informed that your content is valuable each time a relevant website links back to it.
Not all backlinks, though, are equal. Links from underperforming websites can occasionally make it more difficult for you to rank in Google's top 10. Create outstanding content with the help of the best digital marketing services that draw links, or ask other website owners for link exchanges. A relevant website to your own could host your guest blog, which would help you build backlinks.
4. Take Control of Internal Links
Even though backlinks are crucial, it is also crucial to remember your own connections. You can inform Google which of your own content is more important by linking to it. These are votes for your own articles, much like backlinks.
What if your website is underperforming in comparison to others? Linking to the older content from more recent articles can increase its visibility in Google. Fixing broken links through on-page SEO services in Ahmedabad is essential. The longer you let them go, the more Google will learn that you do not care about making solid connections.
5. Choosing Quality External Links
What about the links you employ that lead to content created by other people? Yes, when assessing quality, Google also considers external linking. It is like telling a search engine that you want to share knowledge and cite sources. We saw blog posts quickly move up the search results simply because they linked to reliable scientific research and statistical data.
Make sure the source is pertinent to your topic when creating external links. Google will penalize your content if you do not. Additionally, you ought to consider the source's general level of acceptance. It might appear that you are fabricating backlinks to boost SEO if you link to something that performs poorly online. Consider links to enhance your content by giving the reader access to additional resources and high-quality content.
6. Improve headings and descriptions
Optimizing content involves more than just coming up with eye-catching titles. You should also think about how search engines will interpret the page. You must therefore improve your title and description tags. Both the title and the description should contain your main keywords and phrases. This aids Google's ability to "understand" the subject matter of your content.
Additionally, rather than just using one keyword, you should think about using long-tail key phrases.
You can fine-tune how Google interprets the article by incorporating these phrases in your titles and descriptions. Giving searchers exactly what they are looking for is key, and the first things they will notice are your titles and descriptions. Google will move something up in the results page if users keep clicking on it in the search results. Google will downrank the article if the title and description do not seem pertinent.
CONCLUSION
The practice of search engine optimization is constantly changing. Google will keep making changes that will impact SEO strategies because it is committed to providing searchers with high-quality content. Take advantage of the SEO services in Ahmedabad, but always keep an eye on what Google will do next. If you make changes as they arise, it might give you an advantage over the competition.
Read More-Partner with the Best Digital Marketing Agency in Jaipur to Boost Your ROI