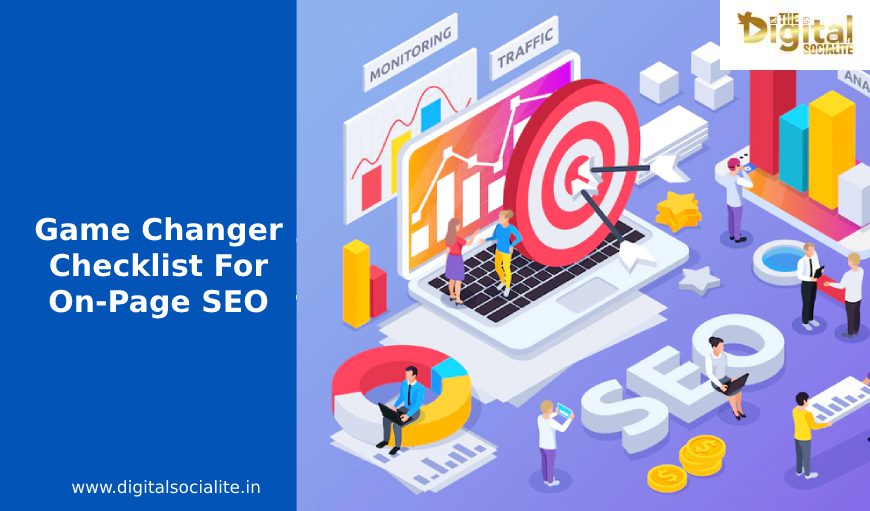 On-page SEO is a critical part of improving your website traffic Google has been regularly updating its algorithm and due to these updates, the SEO experts have had to modify their SEO tactics to rank up their websites.We the Digital Socialite Jaipur provide you weekly content on different type of tips and tricks for Digital Marketing you can check out our website for learning and also getting Digital Marketing Services.
In this blog, you will learn about some factors of on-page SEO that you should consider when implementing. It will provide you with a checklist that you can write down and keep in mind while doing on-page SEO. Here is a list of 12 points that you should include in your checklist while doing on-page optimization:-
When we do on-page optimization, the very first thing we optimize is the tags. The content of a website or anything that can be seen on the page is divided into different tags, such as the title of the website, which is known as the title tag.
When you type something into Google search, you get some results of web pages with a description known as a "meta description," which is also a type of tag.
Some tags are included on our website, but they are not visible to our audience, which is known as "meta keywords," these keywords help the search engine to know more about your page's content.
You can see that every website has many pages. Each page has its URL, which consists of a domain name and a further URL, called slug it is important to optimize the URL. SEO-friendly URL helps your page to read the needs of users and searchers your URL should be short and keyword-rich.
The structure of the website consists of two parts: the header and the main part, with some tags in the header and some in the main part. Sometimes it's not easy for a small business owner to do all this and they may not have experience in knowledge so you can hire are agency Digital Socialite Jaipurfor getting digital marketing services.
Normally, when you read a blog on a website, there are several headings and subheadings with some points, so all these points and headings are optimized.
Internal linking and external linking
There are many links associated with a website to redirect you to other websites depending on your choice. In a blog, you will see headings and some highlighted words, and tapping on them will take you to the other website. If the link belongs only to your website, it is called "internal linking," and if your website is connected to a link that is outside your website or another website, it is called "external linking." There is an upper limit for attaching internal and external links. For blogging websites, there is a limit of 120 links; for business websites, it can be unlimited.
To make your internal and external linking perfect, so you don't have broken links and your links are attached with proper keywords, a proper anchor text should be attached to your link. These are some things that people don't talk about much, but the little things improve the traffic on your website, as the search engine considers more than 200 factors to rank your website.
We previously talked about keywords, URL heading tags, and internal and external linking, but now we have to focus on our main content. It should be creative and written correctly. The most important thing in the content is keyword density. Your keyword density should not be too high because that will be considered spamming and your content might not get ranked.
Plagiarism is similar to copyright: whenever you copy some other content from other websites, this is considered a violation of the copyright criteria. Your content should be original and written by you, not copied from any other website or blog. You should always avoid plagiarism. One thing that is not considered copyright but if you do this, your content will not be able to rank, and that is article spinning. Sometimes, due to a lack of time or ideas, you may just spin the content of your previous blog by changing its synonyms and some lines, which is also not good.
The grammar of your content should also be correct. This will also help you be better represented as a professional in front of your audience. Say there are two websites with similar content, good quality content, a correct interface, and good quality content, a correct interface, and correct images, but still one website ranks above the other. The reason for this is that the grammar of that website could be better than the other one. Google detects the grammar of your content, and that helps you rank your website above other websites. These are some small changes that can have a big impact on the traffic to your website.
A subsection of content optimization is image optimization. Images are generally part of your content only, but we consider it different here. Show the image in image optimization should not be large so they should be compressed. The small size of your image will help the page to load faster.
ALT text / Alt Attribute and title
You should add ALT text or an ALT attribute on your image the full form of ALT is an alternate name your images should contain a proper ALT name. Whenever you put your cursor on the image, some title pops up that is the title of your image. It should be genuine and right.
Include all these 12 points in your checklist to improve your on-page Optimization and if you are looking for any social media services like content writing, SEO optimization, website designing etc you can consider Digital Socialite Jaipur for providing these services.