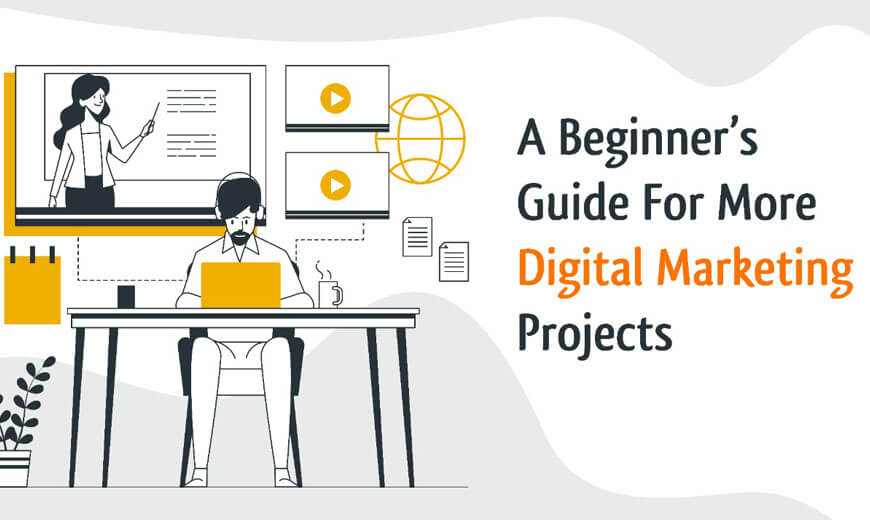 People nowadays spend more time on the internet, visiting social networking sites, uploading photos from last night's show party, remarking on someone else's post, and many more. Consumers are also browsing e-commerce websites and making purchases in the middle of this information exchange.
So, if you've recently launched your company, where should you go to reach out to your users?
Yes, you read that correctly — online. The days of advertising and brochures are outdated. Digital marketing is one effective method that will propel your business forward while also connecting you with your consumer.
Even talking about it is easier than doing it. You'll need a strong digital marketing plan to outperform your competition and attract more digital marketing projects.
How to get more digital marketing projects in 2021?
This emerging technological landscape can be challenging if you are starting with your firm. So, let's have a look at the main procedures that must be followed to develop a successful digital marketing plan and process:
Pitching the clients from Twitter
Establishing the correct and updated bio in your service account, which can attract a suitable client, you can utilize a tool like Gorkana or Cision to identify the reporters' Twitter handles on your scoreboard. You can often find them on Twitter or Google, and by reviewing their profiles, you'll be willing to inform them if they're the appropriate person to pitch.
Use Quora
The company can also use the Quora services to pitch the clients by answering their questions there. It would help if you attracted a suitable client by answering adequate questions so that the client can notice you and contact you. Quora is providing the services on their platforms used for commenting on certain topics as per their experience.
Use "Crunchbase" and "Built-with"
Use the appropriate platform which will best meet the clients according to your services. These platforms help you in pitching the exact client by the keywords searched by you.
It would broaden your understanding of keywords overall, but it will enable you to appreciate the critical function of keywords and clients.
Ask for the referral client.
When you deliver online services, try to make the best out of everything to your existing clients. While getting adequate pay for your services, ask the client to refer to another client as a reference which helps you stronger when taking on large client online marketing tasks.
These references will help you in increasing the contact on online platforms and getting testimonials. If you give your best services to the client, he might give you work again in prospects.
Share the requirements of clients.
You also share the requirement posts of different clients on various platforms. Sharing helps you stand out in the client's eyes, and he can approach you for your services. For newcomers, this is amongst the most effective digital marketing initiatives. Start commenting and sharing instead of just looking and thinking that you didn't match the requirements.
It allows you to make marketing contacts based on different criteria. It will show you how to spread out the services over several days to attain your goals.
Conclusion
The guide mentioned above tools and strategies help acquire more Digital Marketing projects in the initial phases of the businesses.
Get one of the following tactics and put it to improve business performance. Once you've cracked that one, move on to the next one and customize it to your business.
Understand that finding out what feels right for you, not about what appears to work for everybody, is essential to digital advertising success.