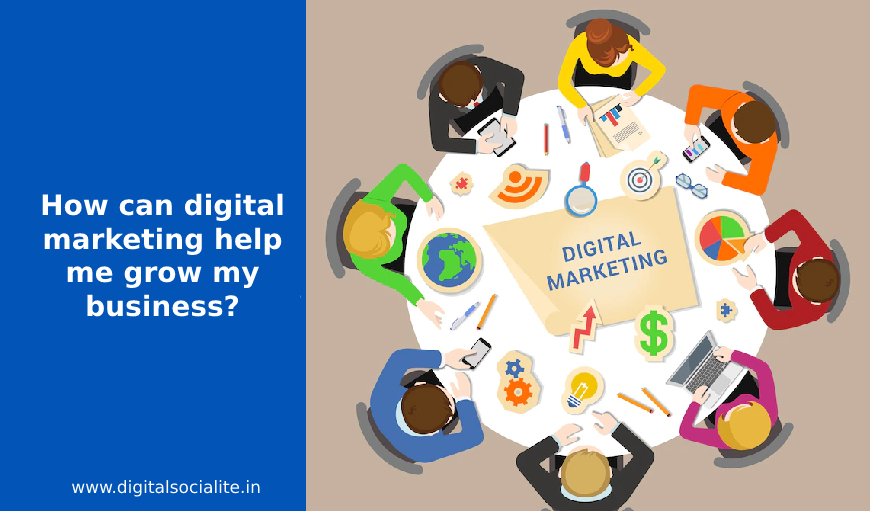 Businesses must take several actions to keep up with the changes brought about by the development of modern technologies.Traditional brick-and-mortar businesses have gradually begun to shift their focus to digital marketing, or they have begun to put more effort and money into their marketing strategy by concentrating on digital marketing strategies. These digital marketing strategies are aimed at snagging a lucrative and quickly expanding online market.
A strong online presence is beneficial for any developing company. An online presence gives companies a better chance to survive, compete, and expand.
The reasons why digital marketing can help your business grow are as follows:
1. Broader reach and geographic expansion
 Using conventional marketing techniques to expand your company to a new location is a laborious and time-consuming task.
One can easily expand their business to new areas and locations without facing any terrestrial obstacles by implementing suitable digital marketing strategies. Digital marketing campaigns are quick and simple to set up, very flexible, and allow you to easily target the audience you want.
2. Creating a brand name
 A company's ability to deliver on its promises to its target markets is crucial for creating a strong brand reputation. Building stronger and better relationships with customers will help in gaining their trust.
One of the most important (and frequently ignored) components of an effective digital marketing campaign is brand awareness. Customers who are satisfied and happy will undoubtedly tell others about their positive experiences, expanding the company's reach into newer markets.
3. Higher revenues
High conversion rates are the result of an efficient digital marketing strategy, which eventually aids the company in generating more revenue.Compared to various traditional marketing channels, digital marketing strategies aid in producing significantly higher revenue.
Google claims that businesses with digital marketing strategies have a 2.8 times higher expectation of revenue growth. Businesses that use digital marketing have a 3.3 times greater chance of growing their workforce and revenue.
4. Greater ROI
As was already mentioned, successful digital marketing strategies will increase a company's revenues and brand value. Comparatively speaking to traditional marketing, it also aids in improving ROI. Digital marketing strategies are very simple to track, making it possible to gauge the impact onyour intended market.The secret to a successful digital marketing strategy is to generate a steady stream of traffic that can be converted into leads. The faster the return on your investment, the more traffic is generated.
Without digital marketing, your company would be losing out on this fantastic chance. With a digital marketing strategy, there is no need to wait to enter this market or that one, according to SEO experts who predict that the mobile Internet market will expand steadily soon. You can sell to your customers wherever they may be if you have an online store and offer shipping to every country.
Want the best SEO services for the expansion of your company? The Digital Socialite can help. Connect today.