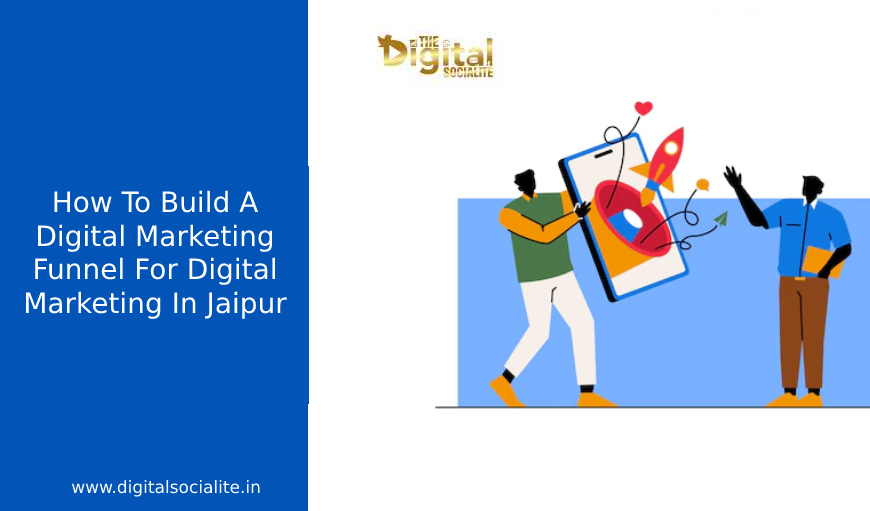 In this blog, you will learn how a digital marketing funnel is built for digital marketing in Jaipur and we will also take an example to understand it better.
Marketing is a crucial word in this concept of digital marketing. Primarily, you learn about tools for SEO and Google ads. But sometimes you miss the marketing factor. Learning marketing can help you a lot in digital marketing because marketing focuses more on logical and analytical thinking.
Basic marketing funnel
We will focus on the marketing funnel first. Old-school marketers are probably familiar with Mr. Elmo's four-step buying model, including the acronym AIDA, which stands for Awareness, Interest, Desire, and Action.
1. Awareness
You need to create an awareness of your product or service that helps you see its market potential.
2. Interest
Not everyone is interested in what you are selling. Many people become aware of your product, but only one of them expresses interest in the product. Those who do express interest are the suspects who may or may not buy. But you will definitely get more interested people. That's why it's called a funnel, because the target audience is filtered to your customers
3. Desire
People are interested in your products, but they do not necessarily want to buy them. Therefore, at this stage, the customers who want to buy your products are filtered.
4. Action
Let us say you know that a car is launching to the market, you are interested in the features of this car and you want to buy it, but you can not afford it. This is what usually happens in the action phase, or people change their mind about the product
So this was the basic marketing funnel that you need to know in order to take a step forward in creating the digital marketing funnel
Digital marketing funnel for Digital Marketing in Jaipur
In this funnel, you will now learn about the five phases of digital marketing: Attract, Engage, Capture, Nurture, and Convert.
Let us take an example: Let us say you have an ebook with a complete SEO guide that you want to sell in the market. Here you need to learn how to set up a proper digital marketing funnel for it and how to reach your buyers
1. Attraction/awareness
Attraction is very much related to awareness. You can make a free ebook that can include the introduction that SEO complete guide ebook. People will eventually take that free ebook. Here you are making people know about what you are selling, and that will automatically attract a lot of people to read your free ebook. You can also take the help of Google ads, creating posts and publishing content on your website to attract attention
2. Engage
Let us say visitors come to your website and have the option to download the free ebook, but before they download the ebook, they are asked for an email address and a phone number. Some of the visitors leave the page at that moment, others enter the email and phone number, filtering your potential customers
3. Capture
After you get the email and phone number, you have captured these visitors, and now it's time to nurture them
4. Nurture
You offer another eBook on a specific topic and provide them with the valuable content they want to read. Many of the customers acquired in the first phase will be filtered after each phase, which means that the filtered audience will make up the bulk of your potential customers
5. Convert
This is a very difficult and sensitive phase. The loyalty of the customers that are nurtured is definitely high as they have built a certain level of trust in your product. You will be able to convert the audience that really needs knowledge about SEO.
This way, you will be able to sell your ebook. Now you need to figure out how this digital marketing funnel will help you increase sales and digital marketing.
The most common mistake people make is that they start selling their products at the very beginning of the funnel, which is the point where they become aware of your product.
You can read this blog once again and note down all the points for making your digital marketing funnel in digital marketing in Jaipur.
Read more How To Increase Ranking In Local SEO With Digital Marketing In Jaipur