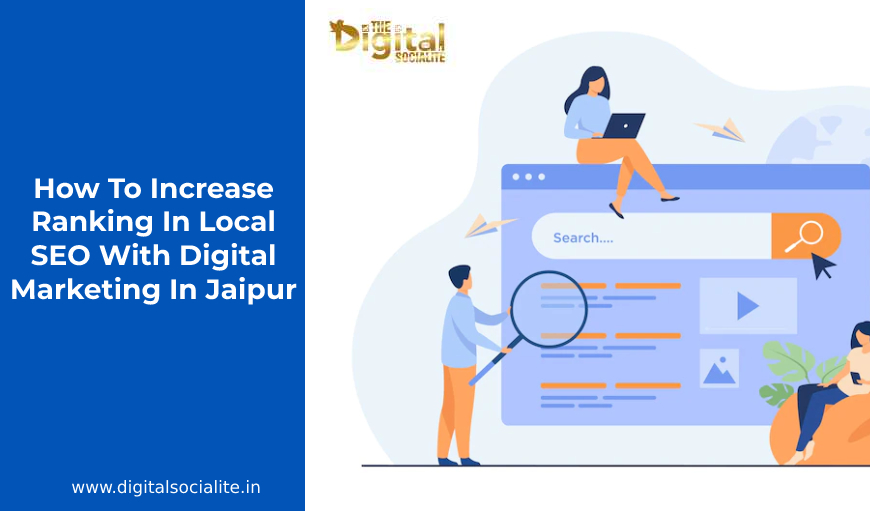 The topic is how to increase ranking in local SEO with digital marketing in Jaipur. Local SEO is important to the local market. You have often read about the basics of Google my business but basics stop working after a limit. Say you have 4.9 review rating on Google, you have more reviews, but what's next to look forward is total dominance.
In this blog we are going to learn some steps that will help you to rank your business on the top, increase the presence of the business over all, get more conversions leading to increasing the income. The best thing about SEO is that when it works right for you it creates a good income for you.
1. Long review from real customers
Encourage your real customers to write a review of more than 200 words and to add one or two photos of the site. This will increase the value of your business among the people who are going through your profile. One more big reason is when a customer writes a 200 word review then he will describe the valuable products and services he has been provided with, that will increase the keywords in that review ultimately ranking your business on the top. Also the bot reviews are more often recognizable so don't get bot reviews on your shop.
2. In-action photos
Don't just post the photo of your office or shop. Post pictures showing your workers working, you dealing with the clients obviously with client's permission and so on. For example you have a restaurant so don't just post a picture of restaurant also post pictures where the staff is cooking something, people are having their meal and so on. This will convey that your business is active whenever anyone search about your shop. Thus creating a confidence in the mind of viewer. And there is one more option of 360° in-action video got for it.
3. Website content
If Google my business is a car then the website content is your engine that means a website content also plays an important role in ranking. But what should be the content on that website some business websites provides just some generic content like we provide best services, we offer best food, etc. Instead of writing this write the USP unique selling proposition of your business that means what's that unique point in your business that makes you different from other businesses. Don't always promise to be the best but just describe what services do you provide to the viewer. You can also hire a content writer to write content related to your business.
4. Strong Call To Action (CTA)
If the website is called engine then a strong CTA is the steering of that car. There are various types of call to actions like buy now, pay later, download now, Paytm karo these verbs will get more clicks.
To write a strong CTA you need three things up to the point:-
• Use a verb to start with
Your CTA should be concise and clear and let the audience know what you exactly want them to do. Like download now, add to cart, etc.
• Create a sense of urgency
Some best CTA create a sense of urgency so that people click it more, attach a timer to the offer like offer for limited period, deal of the day, one day left.
• Make it standout
You should have a different CTA button. Don't mix it with the content a perfect CTA is a combination of persuasive language and a great design the color in the font of that button should be attractive.
5. Get a good agency
If you are really serious about growing your business professionally then go for hiring a local digital marketing company in Jaipur. It's simple to explain that you cannot be expert in everything if you have a problem you have to go to someone who can solve your problem for example if you have a problem in your teeth you go to your dentist.
Learning everything and doing everything will not give good results in long term let the company do that work for you so that you can focus on your business. Don't see hiring a digital marketing company as your expenditure it's an investment to grow your business.
6. Give proof
You have to give proof on your website and also on Google my business. If you offer a service then you can share a list on your website of wherever you have provided your services in the local areas. These proofs will  definitely impress your audience and the Google my business
Use these 6 points to get ahead of your competitors. Definitely focus on Google map business but the main goal is to build a great presence of your business among the viewers.
Read more 5 Points To Know If You Really Require Hiring A Digital Marketing Company In Ahmedabad