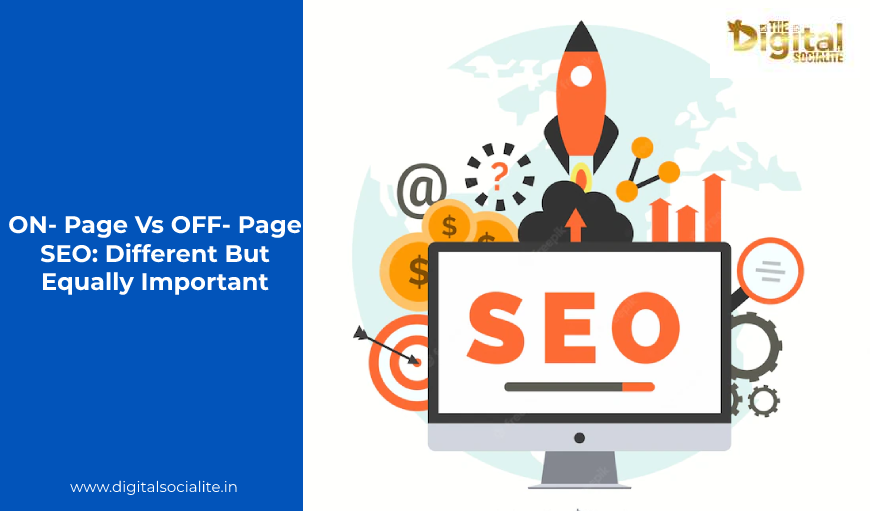 On-Page SEO: On-page SEO is a process in which We try to rank our website higher on the search engine s pages like- google, yahoo, and Bing.With this process, try to increase the traffic to our website. More traffic= more sales. On-page SEO is one of the factors of the SEO process; in which you try to make your Web page listing comes up in the natural search result.
Off-Page SEO: Off-page optimization is a process to improve a website's position on a search engine results page(SERPS). It involves activities like link building, blogging, website design, social bookmarking, etc.Off-Page SEO is another important factor in the SEO process; in which you try to make your Web page listing comes up in the natural search result.
On-page SEO factors
Title tags
The title tag of each page is what is visible on Google. These should include the targeted key terms you want to rank for.
Headings – H1, H2 etc
Headings are the largest words displayed. Always try including key terms in your headings.
Page speed
Google, in particular, loves fast loading websites – and giving a great and customer friendly experience to users is always the best and easy way to get their trust. So, having a fast loading website will help your rankings.
Content
High-quality, relevant content is key here. You need to make your content useful for the people that force them to land on your page and spend quality time. Google's algorithm is very clever nowadays, and it can figure out when content is of poor quality. High-quality content will result in better rankings.
Image alt text
URLs
Images feature alt text, which is not technically visible However has a relevant significance in the whole process. This concept is there for impaired internet users to understand what is on the page via screen reading software. It also helps search engines like Google determine what the images are all about. Including keywords in the image alt text helps Google and other search engines determine what the page and image refer to.
URLs of the pages should be the same thought out it should not keep changing as occurs in free domain websites. Apart from that, having a targeted keyword of your niche in Url also benefits in ranking
Read more – Importance of Dofollow Backlinks For SEO
Internal links
You have different pages on your website and all of those pages have URL links. Those links are called internal links. These links help search engines determine which pages are relevant as per the user's search terms.
Off-page SEO Factors
Off-page SEO is mostly focused on the authority of your web domain, which is achieved by getting links from other sites with high authority. Improving your authority improves the rankings of your site overall.Consider some of the biggest sites, such as Wikipedia or Amazon. If you search for a product on Amazon and thousands of other sites, Amazon usually comes out on top; if not, then near the top. This is due to the fact it is widely known and highly authoritative.The same with Wikipedia. Many search terms have Wikipedia ranking at the top as it has a very high authority.So the biggest factor for off-page SEO is the quality and the number of backlinks going to your website from other websites.
The higher a website's authority, the better quality of the backlink. And the more you have, the more authoritative your website appears to Google and other search engines.
So, now the question is – how do you improve your off-page SEO and backlinks?
Create content people want to link to because it is high-quality and full of information. Make your content helpful and more sharable
Reach out to influencers and make them use your link as a reference
Guest blogging and add your link there
Share links on social media
In short, spread your web link all over so that google will be forced to accept your website's existence.
On-page vs off-page SEO – which is most important?
While we want to get the result in profit we always believe that we should choose between the two options and there is one question which one is more important – ON PAGE or OFF page.Well, here you don't need to choose. Both work together and are equally important. Both of them complement each other.
Still, on-page SEO should be addressed first, as this is the base of your SEO. After that, Google will be aware of your content and niche. Then, over time, if you produce high-quality content or engage in outreach or link building, you can build up your off-page SEO efforts.