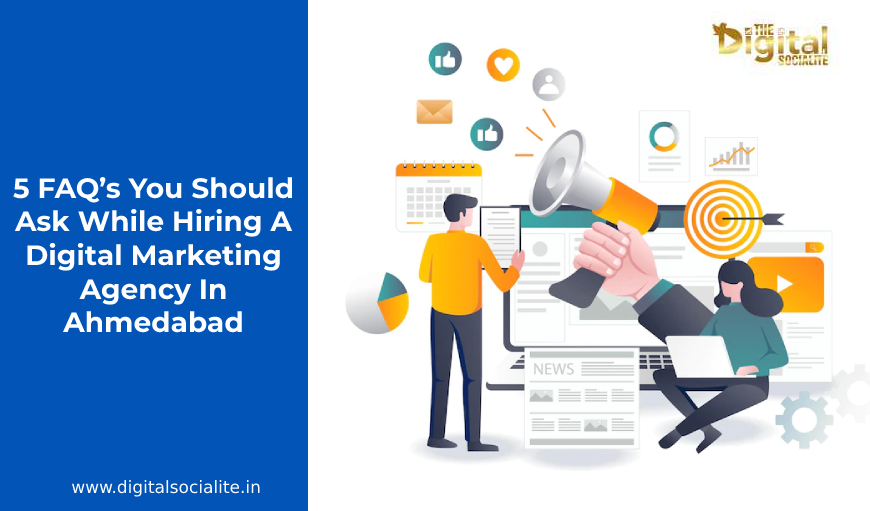 Before you hire a digital marketing agency, and get help in services like web designing, SEO, social media marketing etc , it's really important to know what they are doing and how can you maintain a good relationship with them. So that leads to the main topic frequently ask question in hiring a digital marketing agency in Ahmedabad.
If your internal marketing team is not able to perform well according to your expectations or you are looking forward to start with digital marketing but you don't have an idea about how to engage with target audience you can simply go for hiring digital marketing agency but make sure don't hire them blindly first ensure what values they are providing.
Here are the 5 frequently asked questions you should ask while hiring a digital marketing agency in Ahmedabad.
1. What expertise does that digital marketing agency has apart from others?
Many agencies differentiate them by offering any service or speciality they can be good at SEO or SMM be sure to ask them what is the agency best best at, it could be Web development, Google ads, Content marketing but you will get more benefits if you work with agency that has some sort of speciality which aligns with your business and marketing needs. Every agency has its expertise or speciality no agency can do everything perfect on point and they cannot be special in everything.
2. How often will you expect to hear from them?
If you are working with a digital marketing agency in Ahmedabad you are not just going to receive the service they provide. You are going to receive a partnership or a relationship. Digital marketing agency has expertise that you lack that's why you wanted to work with agency but you also have expertise about your business that they may not have up to you level you know your target audience your industry and consumer behavior very well.
The agency will not have that much knowledge about your business in  starting so communication between the two is really important and ensure you are having a clear communication with your partnership agency.
3. How will you know if you are getting your marketing goals achieved?
Traditionally we often implement digital strategies and then let the campaigns run it's course for a certain duration but one of the benefit of working with digital marketing agency is that they have a team of experts constantly reviewing the data and optimizing the strategies in order to achieve the most possible results. So your agency should not only set it and forget it they should be updating you with the regular reports of impressions, traffic, conversions, clicks, etc and don't let them email you with lazy reports and data generated by the software they use. They should not be just sharing numbers with you, they should explain you what they mean and what plan should be taken forward and this should be done face to face or on a video call or on the best communication possible.
4. How much clients have you served and how much results did they get?
In every field people want to see results before buying anything testimonials are the best way to trust the agency. The more agencies have worked with the clients the more they have expertise in the servics. Some of the agencies may show fake testimonies or just manipulate the results they have provided to companies. So it's better to cross check with the client they have worked for, this will open the doors of trust for you and you will also get to know about how that agency treats its clients.
5. What is the pricing model and billing period?
It's better to know the price they are charging for the services so that it does not cause miscommunication between you and the agency. Billing periods may differ from monthly basis, weekly basis or quarterly basis. One advice for you is don't go for over budget in prices that can ruin your budget.
So these were the top 5 FAQs that you should ask while hiring an digital marketing agency. One last thing is check if you really need the services or not don't hire because it's a fashion some businesses do not really require digital marketing.
Read more How Digital Marketing Agency In Jaipur Can Help You Grow Your Business