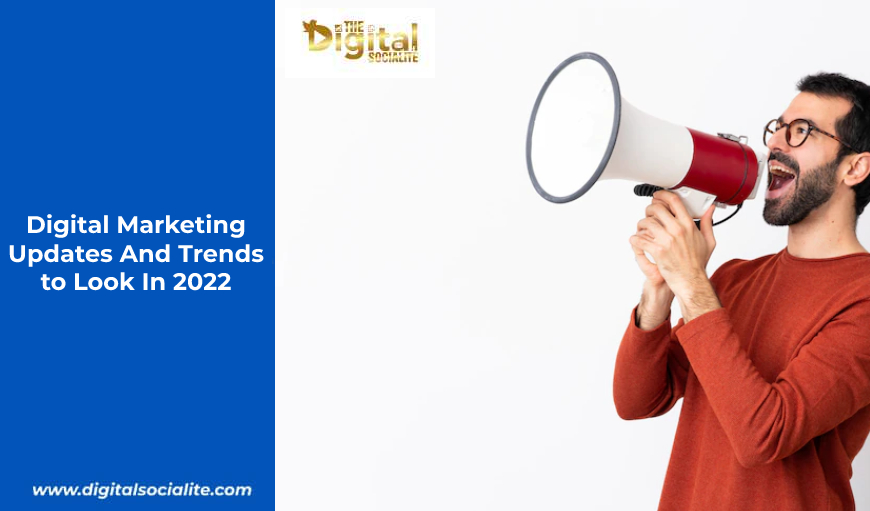 Whether you're a seasoned pro or just starting, you must have looked into the digital marketing updates and trends for 2022 at some point.
For professionals who seek a career in digital marketing, keeping up with the most recent developments in the field is essential. Each digital marketer has to continually put time and attention into learning and skill-upgrading since the rate of change is accelerating and the scope of digital marketing is expanding. You gain the first-mover advantage and design the most successful marketing campaigns for you and your business when you have a thorough understanding of how algorithms, new modifications, or features function. In 2022, digital marketing folks have spread over the world and have begun to hunt for the newest trends.
The digital marketing updates and trends fall under several areas, including lead nurturing, social media, website, and search. A few forecasts about digital marketing trends that would rule the market in 2022 have also been explored. So be sure to read all the way through.
1. Marketing with AI
Our list's first one in digital marketing updates and trends in AI. The discussion of how artificial intelligence would eventually rule every area of your lives has been going on across the world. We have no idea that the transformation has already started. An AI chatbot has already been used by 60% of internet users to resolve issues across several apps and websites. The majority of the material we view on social media sites is enhanced by AIs to keep us interested for longer! A sophisticated algorithm known as artificial intelligence (AI) learns by examining a large amount of data on a certain subject or field and identifying the most effective patterns. By letting the AI employ the methods it has discovered to work best, programmers may harness the learning capabilities of the AI to bring beneficial changes in results.
2. Metaverse
The Metaverse is a universe within our world. Meta presently owns the Metaverse (Facebook). The concept of a digital realm where virtual and augmented realities coexist to provide a universal experience is both novel and unexplored. A digital avatar of yourself in a futuristic environment where all actions are conceivable appears to have a lot in common with gaming and stands among the top digital marketing updates and trends this year.
Metaverse, a network of realities/virtual worlds in which space exists practically everywhere, has enabled social commerce. Well, digital marketers have discovered a way for their businesses to fill that need and establish an entirely new medium of digital marketing. Although we have not yet achieved the pinnacle of marketing in this arena, the potential is enormous!
3. Commerce through Livestreaming
Livestream Commerce is relatively new in India, but China has already established a multibillion-dollar industry for it. Brands select social media sites to promote their items live, and the audience may purchase the product in real-time. Even on Instagram, the Shop feature allows marketers to display the Show Now button on live video content, which saves the customer time. Livestream commerce has decreased the time it takes a client from advertisement to purchase, making it one of the finest digital marketing updates and trends for 2022.
4. Programmatic Ads
The use of software to acquire digital advertising is known as programmatic ad buying. While the traditional process entails human discussion, requests for bids, and quotations, programmatic buying purchases advertisements using algorithms and robots.
AI is used in programmatic advertising to automate so that marketers may target more particular consumers. These digital marketing updates and trend of Automation is rapid and efficient, which enhances conversions and minimises client acquisition costs. Real-time bidding is a sort of programmatic ad buying that enables better and faster targeting by qualifying to advertise to be purchased and sold on a case-by-case basis, which means that visitors who are your targeted audience will see the ad. Programmatic advertising is growing at a rapid pace and is expected to account for the vast majority of display advertising in the next years.
5. Chatbots
Chatbots are expected to be one of the top digital marketing updates and trends in 2022. The AI-based technology uses instant messaging to communicate with clients and site visitors. It is intended to communicate with customers through textual or aural means. Chatbots may be used by businesses to engage with consumers. Because many people are viewing the website at the same time, it is advantageous to have a system that can respond to hundreds of users at once. Chatbots provide 24/7 customer support, rapid responses to requests, and solutions to simple questions. This virtual help delivers outstanding customer service, allowing a company to eliminate monotonous chores and focus on more vital responsibilities.
6. Personalized & Automated Email Marketing
As the name indicates, automated email marketing involves automatically sending emails to your consumers depending on triggers or schedules that you define. Emails have traditionally been the most dependable digital marketing updates and trends for 2022. Promotional emails are an excellent method to reach out to your clients and inform them of your organization's accomplishments or upcoming sales.
However, as a result of the overuse of mass email approaches, most individuals have ceased replying to promotional emails. Personalized emails are an excellent approach to reclaim your consumer's attention and build a lot more engaged customer base.
CONCLUSION
The field of digital marketing is incredibly dynamic as new trends emerge and alter the way marketing is conducted. As technology advances, we will see more and more interesting trends impacting how we as digital marketers market our services.