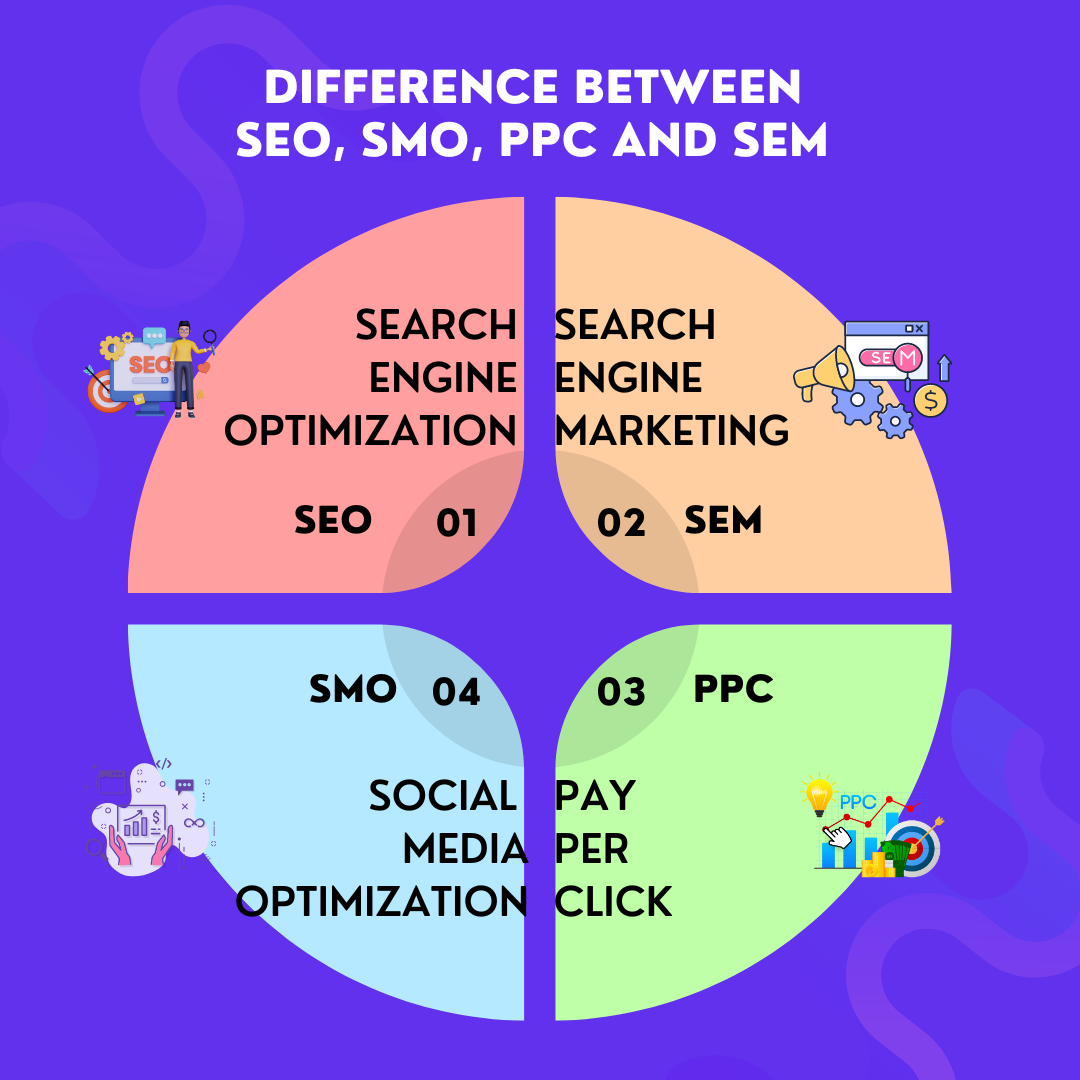 After creating a good website the next step is always to bring more and more traffic to the website. People have different approaches to increasing traffic they may hire a digital marketing agency or they will make a strategy plan and do the marketing by themselves. There are several ways to generate traffic, some mainstream channels are SEO, SEM, PPC, and SMO. Let's discuss the meanings and differences between these four:-
1. SEO – It is the process to optimize your website using various ways to generate traffic and improve your search engine ranking organically. But it doesn't seems that easy because there are various subsections in SEO. You have to do the keyword research according to your targeted audience and adding those keywords to your content to get higher ranking. On page SEO and off-page SEO also done to get a higher ranking.
2. SEM – Search engine marketing uses paid search advertising to get ranked. SEO and SEM are two sides of a same coin. They almost do same work but SEO is done organically without any payment and SEM includes paid advertising. It has a website to increase their visibility in search. You may have also observed whenever you search about something most of the time the top ranked websites have a AD written just above the site address, this is done through SEM and if you scroll down some sites does not have AD written on it this is done through SEO.
3. PPC – Pay per click is an online advertising model. Here the advertiser pays a publisher every time when the advertisement link is being clicked. This is also known as cost per click CPC. The PPC ads comes in different shapes and sizes and can be made with different types of combinations The most common example of PPC, you can see is whenever you search about a product on Google you get those products in boxes listed on the top. Whenever you click that box the advertiser has to pay some cost per click to the Google.
4. SMO – Social media optimization is the use of different social media platforms to get more traffic and grow the online presence of your business. It is done through making profiles on different social media platforms like Instagram, YouTube, LinkedIn and producing content on this platforms with a strategy to get more traffic on the profile.
Lastly, if we differentiate between all these four so the SEO is the organic way to generate traffic on your website where is SEM is paid advertising way to generate traffic on your website on the other hand, PPC means paying the publisher or search engine for every click that you get on your ad campaign and SMO is away to promote your brand through different social media platforms by producing content.
Read more Top Reasons to Invest in SEO Services in Jaipur for Your Online Business